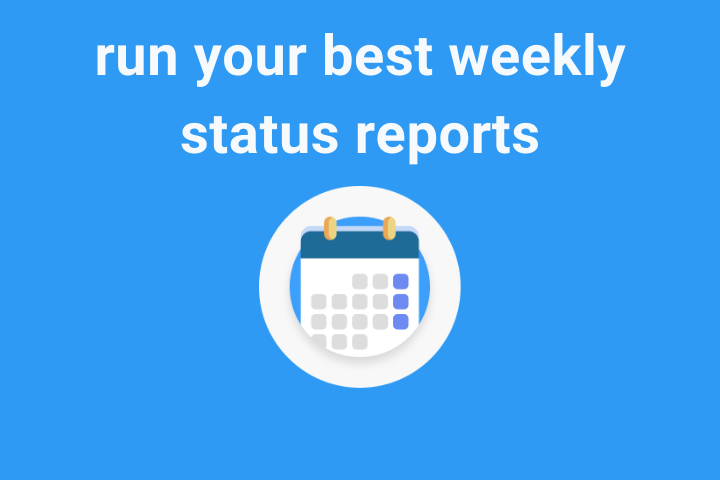 A weekly status report is one of the best ways to communicate with your team as a project manager or team lead. A good team lead will use the report to gauge a team's weekly progress with their projects or with their emotional well-being. Weekly status reports help you have shorter meetings and improve transparency at work. The reports also allow teams to seamlessly work with each other. ScrumGenius may be your solution to routine communications.
With ScrumGenius, automating a weekly status report is simple and effective.
What is a Weekly Status Report?
A weekly status report, also known as a weekly check-in, is a communication tool that project managers use to keep tabs on their employees' work experiences. While a team lead can do a weekly status report in person, it's easier to do it online. Team members or employees will use the report to tell their boss about their emotional or project-based progress for the current week and for the upcoming week.
ScrumGenius' status reports allow project managers to asynchronously ask their team members questions. The team members will receive a prompt on their device to answer the questions at a certain time and day.
How is it advantageous?
Remote working causes many problems for a project manager. Understanding the needs of your team members and employees can be one of them.
Building trust and communication in remote teams is one of the best ways to create a safe work environment. Gaining a team member's trust is difficult when you can't communicate well from afar.
A weekly project status report can be the answer to this problem. By asking employees a series of focused questions, a project manager can gain a better sense of any emotional and work-related issues that may come up and get a better sense of what the updated project timeline is.
Weekly status reports can also create a welcoming and encouraging work environment. A study by the Department of Psychology of the University of Delaware found that when an organization supports the emotional needs of the employees, the employees will be happier on the job. Because of this, the employees are more committed to their work, they perform better and fewer people want to quit.
Automating status reports with ScrumGenius saves everyone time by allowing team leads to schedule a specific time for their team members to answer the questions in the status report, but we'll get more into that later.
The difference between a weekly status report & a daily standup
In a daily standup meeting, team members all meet together at the same time each day to talk about their completed tasks, future goals and blockers. Unlike a daily standup, weekly status reports happen only once a week. They are automated, more reflective and often more emotional but can also address project-based concerns as well.
Questions to ask in a weekly status report
There are lots of questions that you as a team lead can ask. The questions that a team receives in a weekly status report should be open-ended to make sure you can get a good sense of how your team members are feeling. To get helpful answers, make sure the questions are easy to understand, specific, unbiased and distinctive.
Examples of questions that can be asked in a weekly status report include:
What have you been working on recently?
What have you accomplished this week?
How are you feeling about your progress so far?
What are your top priorities and action items?
What are your challenges going into next week?
What can I do to help make your life easier?
Is there any project that is causing you frustration?
Do you feel like your deadlines are achievable?
Is there any part of your week that has been particularly stressful?
Do you have any positive updates to share?
3 Common Issues With Weekly Status Reports
You can talk to every team member and ask them how their progress is going by emailing, video chatting or talking on the phone. This process can be long and it may be hard to track the answers. This is where ScrumGenius' automated weekly status report can help.
Configuring your reports will help you get the best results from your weekly status reports. Here are some common issues that can come up with weekly status reports and how to overcome them to get better status updates.
You're receiving vague answers
With ScrumGenius, you can carefully choose the questions you want to ask your team. The more specific and less broad questions you can ask, the better and easier the process will be for you and your employees.
You don't know how to interpret the results
By asking specific questions, you will receive specific answers. Now it's up to you to interpret the answers to those questions to get a better idea of how your team members are feeling and the progress they've made during the week.
With ScrumGenius, you can receive your team members' answers at the same time and quickly sift through the answers. By asking similar questions to all employees, you can get a better sense of whether one person is struggling or if all of your team members have the same problem.
You're not receiving enough answers
To receive enough results from your weekly status report, it's best to conduct your weekly status report on the same day and at the same time every week. This way, your team members will expect to receive a weekly status report and will be more inclined to answer.
Also, using the information you receive to improve the workplace environment will further employees' motivation to complete the status report because they will see the changes being made to their work environment.
How to run asynchronous weekly status reports with ScrumGenius
ScrumGenius' automated asynchronous status reports help to reduce time-consuming meetings and distractions that make effective communication within a team difficult.
Getting started with ScrumGenius is simple. As the project manager/team lead, you will have to:
Connect your team
Learn best practises for weekly reports
Get your team members to sign-in
Review your team's check-ins and stats
ScrumGenius will let you choose a category and submit the questions you want to ask. You can then choose what day and time you want to schedule the weekly report. The team will receive a notification at a specific time each day reminding them to fill out their weekly status report.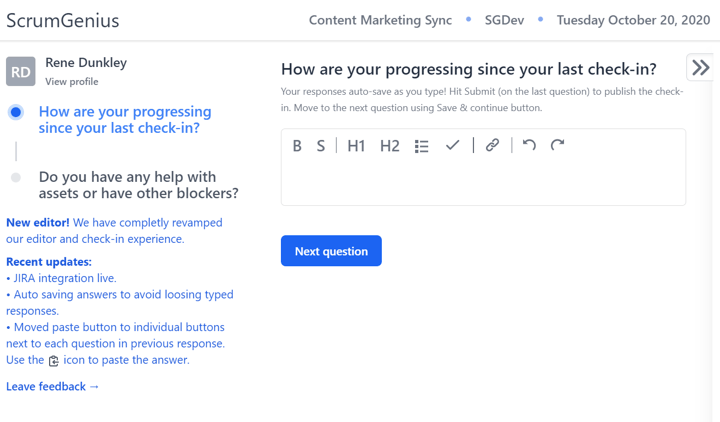 As you can see from the example above, the questions in a weekly status report should be easy to answer and have a clear goal. When the team responds to the questions through a chat platform, ScrumGenius collects the answers in a dashboard.
If you want a little more guidance getting started, we have multiple status report templates, including weekly status report templates, to help you gather information on project progress.
That's it! ScrumGenius makes connecting and managing a remote team easier than ever.