ScrumGenius' standups are incredibly helpful to get quick, easy metrics on your team's goals, blockers and tasks. But you can get even more information if you tailor your standup questions to best fit your teams and their unique metrics.
Here are some sample questions you can ask your design teams to get the most out of ScrumGenius, inspired by the real-life standups of our customers.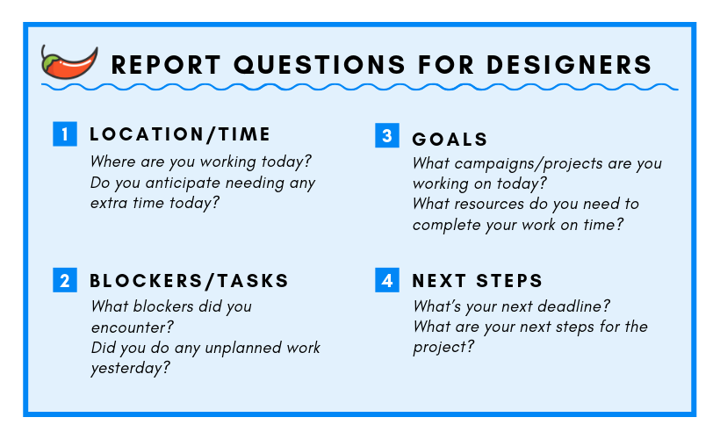 Keep reading to find out how these questions can help your teams.
Location and Time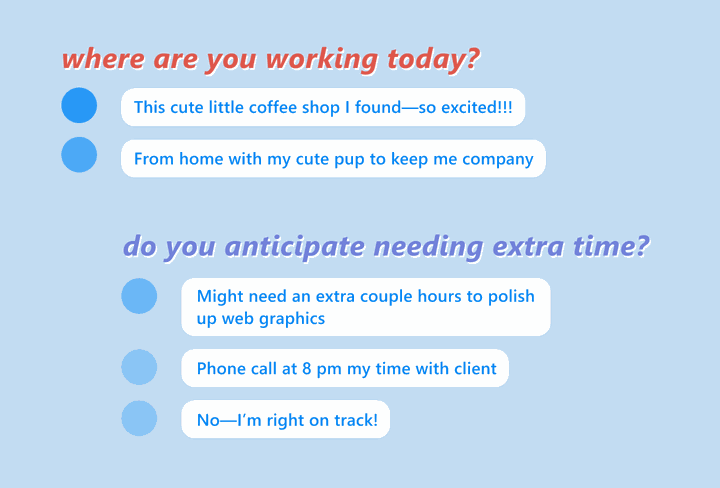 Where are you working today?
Design teams have a lot more flexibility than other types of teams, and a lot of designers have the ability to work in different places. If your team frequently works in different locations, it might be a good idea to track where everyone is.
Do you anticipate needing any extra time today?
Designers might be required to work outside of normal work hours, especially if they're remote. Furthermore, if your design team is made up of workers on retainer, it might turn out that your project needs extra time than anticipated. This question can simply let team leaders know if this might happen so they can adjust for it accordingly.
Blockers and Tasks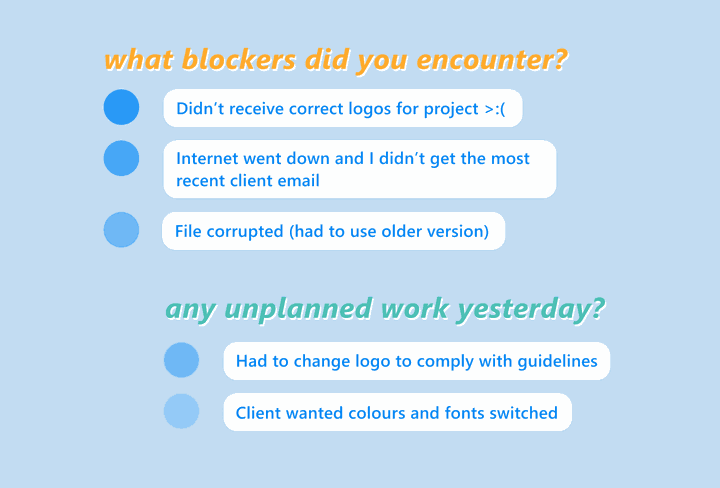 What blockers did you encounter?
This one's pretty explanatory. Give your teams a space to record any issues or roadblocks they may have encountered.
Did you do any unplanned work yesterday?
Unplanned work pops up in almost every job sector, but design teams deal with it more frequently than most. Requests get added halfway, or clients don't like how something looks, or something else happens. Record these tasks so you can notice patterns if they pop up again.
Goals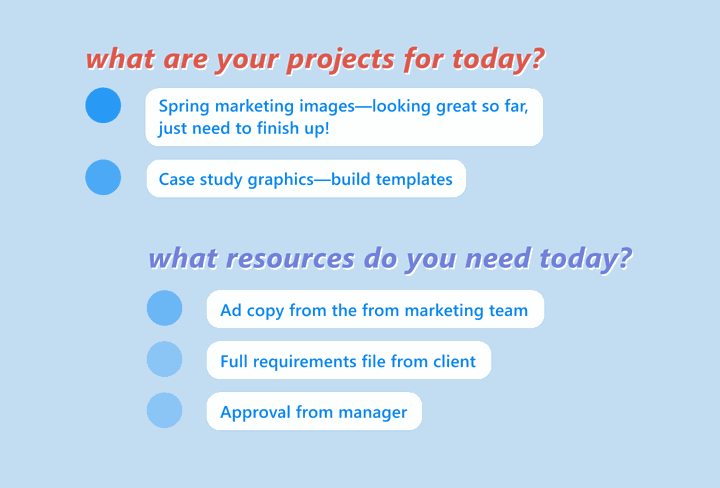 What campaigns/projects are you working on today?
Keep track of who's working on what to better measure accountability and measure your team's workflow.
What resources do you need to complete your work on time?
Design teams rarely work in a vacuum. Often, they'll work alongside marketing and software development times, especially for marketing campaigns and website copy. This question allows designers to let managers know how they can help their teams work better and create a list of people to speak to for themselves.
Next Steps and the Future
What's your next deadline?
Design teams often have fairly strict deadlines for different projects. Give your team members a place to record for themselves their closest due dates so they can prioritize their work.
What are your next steps for the project?
Just like with software teams, it's always a good idea to look towards the future and record the next steps in a project. Keeping future tasks in mind can keep team members from doing unnecessary work and let them know what to work on next if they finish their work early.