Standups are a useful tool to help teams regroup and stay up to date on each other's tasks. In fact, these meetings are often one of the most crucial parts of a business' running. Yet they can also dramatically bring down your team's workflow and productivity. One thing turns to another; friends might start discussing personal lives, or coworkers might leave out details in their haste to get everyone up to speed and so on.
And while there are many ways to help cut wasted time in standup meetings and keep employees focused and on track, keeping your meetings solely in-person can still waste time. It can also waste money, too, and that's something no organization wants.
That's why we at ScrumGenius have put together this handy calculator to help you discover how much time and money our asynchronous, automated standups can save you—all for $7 per active user per month.
Here's how our standup savings calculator works.
Say you have a team of 15 people, each with an average yearly salary of $50,000. Your team has half-hour daily standups, totaling approximately 10 hours a month.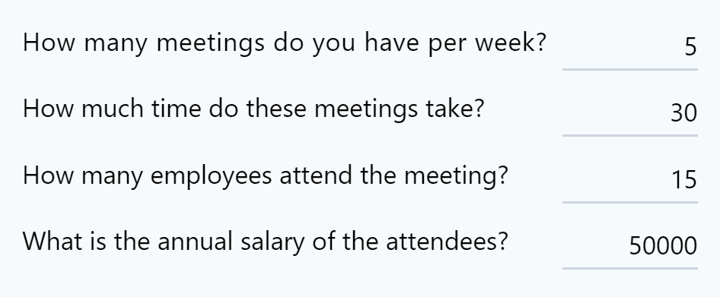 ScrumGenius' standups take only a couple minutes to complete, meaning you can save about 9 hours per month—or over 100 hours per year.
With that in mind, ScrumGenius can also save you $3,535 per month simply by taking out the need for in-person standups, for a total of $42,420 every year. That's about $2,828 per employee!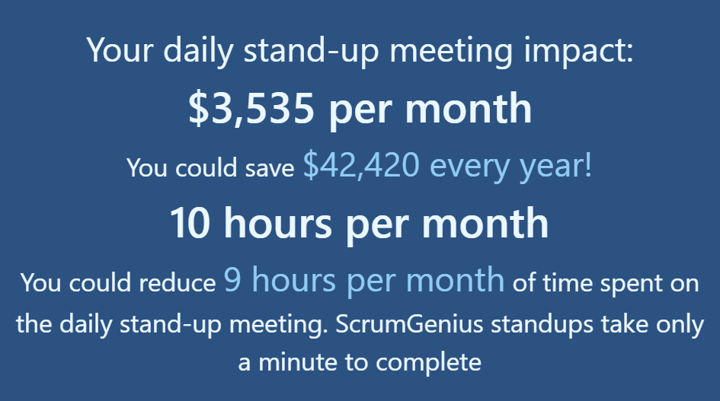 As we mentioned, ScrumGenius costs you $7 per active team member per month. If you have 15 members, that's $105 a month, or $1260 per year. That's still a savings of $41,160 you can get simply by using our app.