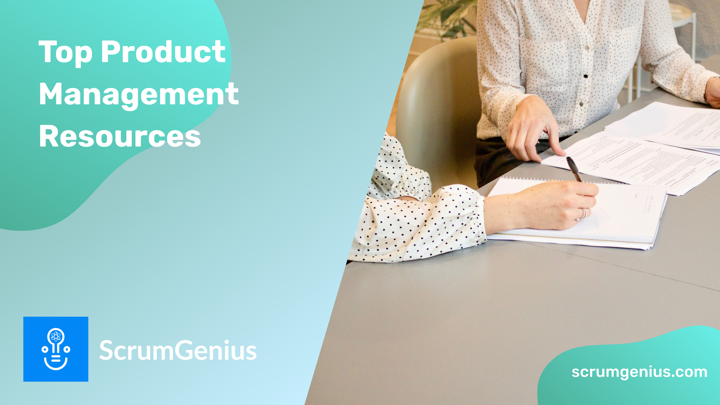 Working in product management can be difficult, and it's no easy task for someone to learn. That's why we've put together a list of our favourite resources—everything from courses to apps to blogs and podcasts—to help you gain the skills to become the best product manager possible.
---
Guides
Let's start off with some of our favourite guides to product management to help you boost your skills.
Aha.io
Aha.io's product management guide has sections on just about everything you need to know, from product strategy to roadmapping to development. They even have a bunch of free product management templates for things like competitor analysis and creating business plans.
ProductPlan
While ProductPlan's product management guide lives on their website, they also offer an ebook version you can download and keep wherever you go. Their guide focuses more on the technical aspects of product management than Aha.io's does, and discusses the different types of product management you may need to use for different types of companies—for example, B2B products or B2C companies, as well as Scrum and Agile teams.
Check out ProductPlan's guide here.
The Product Manager
Product Manager's PM guide is targeted more towards beginners, but it can be helpful for anyone looking for a refresher. It goes over the different types of product managers and their roles and duties as well as how to start a career in the industry.
Check out Product Manager's PM guide here.
RoadMunk
Roadmunk focuses a lot on roadmapping—arguably one of the most important parts of product management—but they have a bunch of information on other product management roles and operations too.
Try out RoadMunk's guide today.
Courses
We've also rounded up some of our favourite courses to help you widen your knowledge base and boost your skills.
Reforge
Reforge has many comprehensive courses to help you succeed in the product management field, all built and led by experienced leaders in the industry. You can take courses on anything from product leadership to strategy to growth.
Enroll in one of Reforge's courses here.
Product School
Product School's courses are taught by industry leaders from companies like Paypal, Microsoft and Google, and can lead to certificates in Product Management and Product Leadership. Plus, all of their courses are flexible and virtual, letting you fit them to your schedule.
Check out Product School's courses today.
Charles Du
Charles Du is one of the most influential leaders in the product industry. With his course, you can learn everything from core PM skills to building your portfolio to agile methodology, alongside case studies from companies like NASA.
Cornell
Finally, Cornell University's Product Management Certificate course is a great way for anyone to learn how to manage products throughout their whole journey. You'll learn directly from Cornell U profs, helping you stand apart from other newcomers to the industry.
Get your product management certificate from Cornell today.
Apps
Every product management team needs a good arsenal of apps to help them stay productive and in-the-loop. Here are some of our top applications.
ScrumGenius
ScrumGenius is an automatic, asynchronous reporting tool that helps you stay up-to-date with your team's progress, goals and blockers. Every day or week at your set time, the Scrum bot will send everyone on your report a series of questions on what their completed tasks, future goals and potential blockers are—though these questions can also be customized as well.
ScrumGenius integrates with chat platforms like Slack and Microsoft Teams as well as email, making it even easier for everyone to fill out their standups. Then, once the reporting period is finished, everyone on the report will get sent an email summary of your team's responses so they can get quickly caught up on each others' work.
Notion
Notion is probably one of our most-used tools. It's a great, user-friendly information and document management tool that anyone can use, regardless of their technical skill. It's also great for teams of any size and type, and allows team members to collaborate on resources together to keep everyone in the loop.
Linear
Linear is a minimalist task management tool that helps you keep track of tasks and issues. It can be used by anyone, but it's especially helpful for software and development teams who are used to an issue tracking model.
Add Linear to your workflow today.
UserVitals
UserVitals is an all-in-one customer feedback management platform that helps product teams gather feedback from their users in order to better guide their product journey and respond to customer concerns. We pull in feedback from our customer portal, feedback widgets, integrations with platforms like Intercom and HelpScout, and manually through a Google Chrome extension so you have all the information in one place.
Each individual piece of feedback, known as an Insight, can be organized into similar groups based on type, general inquiry and/or source called Stories. These stories can then be used to help form your product roadmap so customers can follow along your journey. UserVitals also helps you create and update changelogs, so your users can keep up to date with your product as new releases come out.
Learn more about UserVitals here.
Blogs
Blogs are another great resource for product managers to use, regardless of experience. You can pick up many tips and tricks from established professionals and product management heads at leading companies. Here's a few of our favourites.
Hacker Noon
Hacker Noon's Medium page is a great place for product managers, engineers and UX designers to refresh their memory and gain new skills. Their dedicated team writes on everything from product management to development and marketing, and they even bring in industry experts to guest post so you can learn even more from them.
Inside Intercom
Intercom is one of the best resources for product managers and their teams. While their app itself can be a great way to get in touch with customers and solve their issues, their blog is also rich in information for product managers looking to build their product, manage sales and market to new customers. They've even come up with one of the most popular frameworks for prioritizing features during development, the RICE Prioritization Model.
Check out Intercom's blog here.
Product Collective
Product Collective's blog is a great community of product managers and industry experts who write on just about anything you can think of, including product differentiation to onboarding. Even better, it's a great place to find other people in the industry to connect with.
Join Product Collective today.
Roman Pichler
Roman Pichler's blog is one of the most well-known resources for PMs, and it covers everything from Agile to feature prioritization to user experience. We've used it a lot here at ScrumGenius and UserVitals, and we're sure it can help you too.
Podcasts
Let's go over a few of our favourite product management podcasts.
100 PMs
100 Product Managers is run by Suzanne Abate, and features a different product expert on each episode. It's a great resource for any industry or skill level, and can help you with everything from hiring practices to hardware design.
Rocketship.fm
Michael Sacca's Rocketship.fm helps explain best practices and productivity tips for product people. This includes insights on product management topics like growth and onboarding, but also has a variety of information on things like marketing and sales—everything you need to help launch your product. It also uses case studies to help illustrate their points, so you can learn from real-world situations.
Check out Rocketship.fm today.
Masters of Scale
Masters of Scale is hosted by Reid Hoffman, one of the co-founders of Linkedin. His episodes focus on scaling and growing your business, and feature guests like Bill Gates and CEOs from companies like Netflix and Shopify. Their process and strategies can give you unique insights into the scaling process and help you figure out how to build your company as well.
Listen to Masters of Scale here.
Product People
Product People is just what it says on the tin: a podcast about products and their creators. It's a great place to learn product management tips from those already established in the industry no matter your experience level.
Newsletters
Let's discuss newsletters—another great way to keep up-to-date on the product industry.
Bringing the Donuts
Bringing the Donuts is run by Ken Norton, a product management leader at Google, and it's one of the most popular product newsletters out there. Bringing the Donuts is a great place to find advice about the industry, learn new leadership techniques, and even find startup jobs.
Subscribe to Bringing the Donuts here.
Reforge
Reforge has come out as one of the leaders in the product industry over the pandemic, and specializes in adapting product management to the changing demands of working from home and remotely. Run by Brian Balfour, Reforge's newsletter regularly posts essays from PMs at successful companies so you can see how they've adapted their work to our changing world.
Check out Reforge's newsletter today.
Product Thoughts
Tim Herbig's Product Thoughts is a weekly digest of blog posts, articles and other resources for product managers from both Herbig himself and other leaders in the industries. Product Thoughts is an especially great resource for newer product managers, as it's great at breaking down larger concepts in an easily-digestible way, but it can have benefits for everyone.
Subscribe to Product Thoughts' digest here.
Prioritized: The Product Management Newsletter
Prioritized is a weekly newsletter from Mind The Product that covers a wide range of topics in the product industry, from managing teams to juggling different product models. It's a great place to find information on high-level concepts as well as insights on smaller issues.
Slack Groups
Slack groups can be undervalued by product people, but they're a great resource for connecting with others in the industry and fine-tuning your skills. Let's go over some of our favourites.
Mind the Product
Mind the Product has one of the biggest product management communities in the world with over 150,000 members, and though their Slack group isn't nearly as big, it's one of the most active communities out there. With over 275 channels, there's a channel for just about everything related to product management, including job boards, local meetups and mentoring. It's a great way to get acquainted with the industry, boost your skills, and maybe even find a job.
Join Mind the Product's community here.
Product Coalition
Product Coalition's Slack community is run by Jay Stansell and has over 7000 members to date, including PMs from companies like Square and AMC Networks. It's a great place to discuss experiences in the industry, network, and talk over your ideas.
Check out Product Coalition's Slack group today.
Startup Study Group
Startup Study Group's Slack channel is one of the best resources out there for startup founders and product managers. It's a great place to learn more about successfully running and managing a startup and the tech industry in general.
Join Startup Study Group's Slack community here.
Producter
Producter's Slack community is a great place to meet other people in the industry and gain insights from them. You can ask questions, exchange ideas and experiences, or just learn from a diverse background of leaders in the product management community.
Subscribe to Producter's community today.
---
Guest Bio
Tharshan Muthulingam is the founder and CEO of UserVitals, which helps startups and product managers close feedback loops and manage customer feedback