Choosing the right communication medium or channels is important for any functioning organization with remote teams and to form healthy relationships between colleagues and customers alike.
Through digital communications, managers are able to perform their daily responsibilities and complete their tasks. All the important information needs to be clearly communicated to the managers, who, in turn, will pass it on to their subordinates to complete the work.
There are a variety of communication media that can be used in the business world. Choosing the right channels to conduct your message and automating regular communication tasks with tools like ScrumGenius can truly help to simplify your day-to-day operations and make your operations more efficient.
In this article, you'll learn:
Different t

ypes of communication medium and tips on how to optimize each one

How to set up a good set of processes to use your communication mediums strategically
Types of Communication Medium
It is important to realize that not every communication medium is created the same. Let's take a closer look at the most popular types of business communication media channels and how they should be used.
Email
In today's workplace, effective email as a channel is a must. Email is an ideal communication medium for matters of relatively low importance. Email can be a great way to interact with partners, stakeholders and customers, and it is great for sharing information such as meeting notes, newsletters, or case studies.
Tips for Effective Email Workflow:
Use specific subject lines.

Many emails end up going back and forth multiple times over the course of several weeks. It is important to accurately describe the content of the message in the subject line to make sure the reader knows exactly what they will find inside of the email.

Be clear and concise.

Among hundreds of emails in the inbox folder, nobody wants to read long emails anymore. Consider using bulleted points to express your thoughts and avoid any vague or unnecessary sentences.

Automate status reporting and meeting notes.

A weekly status report

is a great way to communicate with your team. You can simplify your life by using ScrumGenius to automate weekly status reports and emails with meeting notes to be sent to your employees.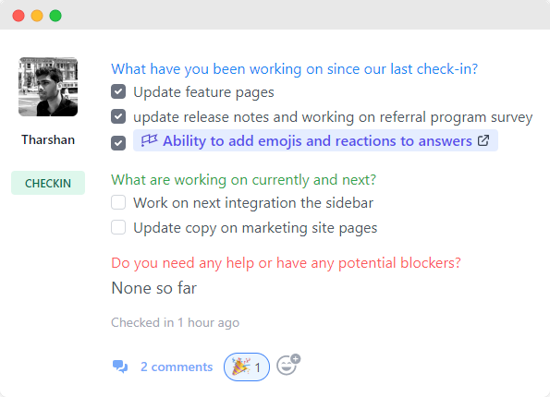 Instant Messaging
In the realities of remote workplaces, the problem of instant communication can be solved with chats or instant messaging apps.
Faster than an email and less intrusive than a phone call, instant messaging as a social channel presents an ideal solution for team collaboration. If you need to quickly ask a question and receive an answer just as fast, instant messaging is exactly what you need.
Tips for Effective Instant Messaging Workflow:
Use chat apps.

There are numerous options for instant messaging out there. One of the most popular chat apps is Slack, as it allows you to quickly contact each member of your team individually or in organized groups. You can integrate Slack with a number of other project management tools like ScrumGenius to really get a comprehensive solution to all of your workplace needs.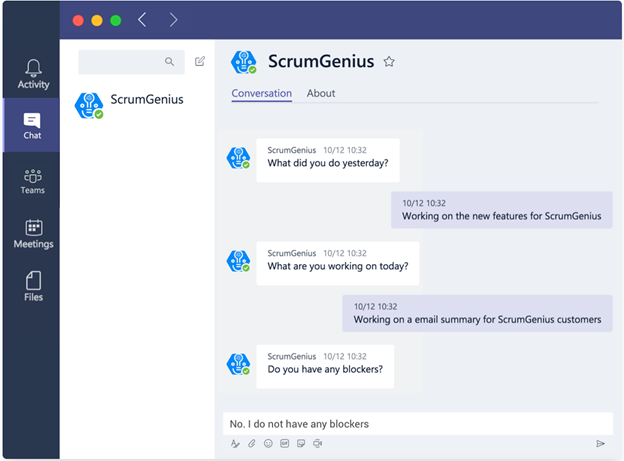 Keep it professional.

With instant messaging, it is easy to get sidetracked into a conversation not related to the original request. In professional contexts, try to stick to the subject and avoid discussing any personal matters. Keep the tone polite and professional.

Use it for the right messages.

Instant chats are great, but they aren't always the optimal communication medium for the task. Instant messages should be short, so if you have a lot to say, you may want to consider using email instead. For any sensitive matters, a face-to-face conversation may be better.

Building relationships with your colleagues.

Using chats can be especially important for remote teams to develop the human aspect of remote working. Set up channels based on personal interests and hobbies to get to know your colleagues beyond their work functions.
Two-Way Remote Communication
When working remotely, two-way remote communication channels through Zoom, Slack and so on, are great for keeping employees in the loop and promote their project engagement.
Teleconferences are great for weekly meetings with a team. You can also use them for discussing sensitive matters, such as performance reviews, face-to-face with your employees.
Tips for Effective Teleconference Workflow:
Distribute an agenda.

Your employees will appreciate if they know what to expect from a call prior to the meeting itself. Distributing a meeting agenda in advance will help your employees to understand their exact role in the teleconference, making the meeting more productive.

Share documents and links in advance.

Share relevant links and documents prior to the meeting, so that your employees have enough time to review any required information and can join the meeting with enough context.

Follow up with the meeting notes.

With endless meetings back-to-back, we tend to quickly forget what the meeting was about. That is why it is crucial to share the meeting notes with all the participants as soon as the meeting is over.
You can use ScrumGenius to collect post-meeting thoughts from the team and gather any missed details. You can even use the tool to edit and refine the agenda for the next meeting.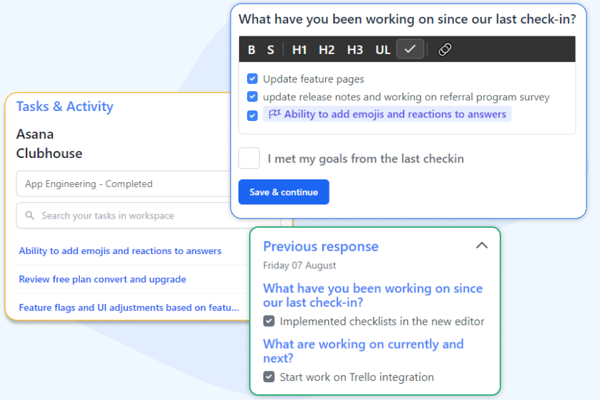 Setting Up A Good Set Of Processes To Use Your Communication Mediums Strategically
When deciding between various types of communication channels, it is important to remember that different types of information require different ways of communicating.
Ask yourself the following questions:
What is the purpose of the information?

What reaction or response are you expecting to receive? Are you expecting an instant reply or no reply at all?

Is the chosen communication medium correct for the specific type of message?

For example, you don't want to lay off an employee over an instant messenger.

Is the receiver the correct one?

Be careful not to send messages to the wrong group of people or a group that is too large.

How will the medium affect the message?

For example, using a chat message with emojis may undermine the importance of the information.
Standardize and Automate your Communication Processes with ScrumGenius
Communication is a major building block of any successful organization. It serves as a foundation for a productive work environment, and efficiently using the right communication channels translates directly into effective work. However, as the business grows, communication can become a major challenge.
Standardizing and automating recurring communication can help you overcome some of the challenges associated with a large organization and save you time on crafting and formatting messages.
For example, by using ScrumGenius to automate your weekly status reports, you can make sure that they always share the same style, tone, and content and free up some time for more important tasks.
You can also integrate ScrumGenius with a variety of communication channels like Slack, Microsoft Teams, Webex, or email to keep all the information in the same place.
Get a free trial today to keep your workplace communication simple, smooth, and efficient.