Sales reports can be one of the best tools you can use to increase your team's performance and supercharge your sales. But they can be tricky to master and if not used properly, can complicate meetings and discussions even further.
So let's discuss sales reports and how to maximize them to supercharge sales, as well as how ScrumGenius can help you create your best reports yet.
What Is A Sales Report?
A sales report (also called a sales analysis report) is a document that gives an overview of a company's sales, including sales trends and performance. It creates a snapshot of the company's sales at a specific time in order to determine future actions and goals. Essentially, it gives context to your sales.
In turn, this can help you find potential new market opportunities and places to improve. They're also a great tool to help keep your sales team motivated and on track, as it allows team members to see their own progress and areas for growth.
There are several different forms of sales report. For one, a daily report tracks sales KPIs on a daily basis, such as the number of phone calls or meetings and the number of leads created.
In addition, weekly sales reports monitor the number of deals closed and revenue reported. Finally, monthly sales reports provide a bigger picture of sales activity for each representative or the sales team as a whole.
Furthermore, there are also different types of reports that focus on specific aspects. You could focus on revenue generated, sales volume evolution, or customer lifetime value. You could also focus on specific sales reps themselves and their sales cycle performance.
We'll talk more about different types of sales reports later.
Sales reports are great for every type of business, from small to big, but they can be especially helpful for startups and small businesses where insights on reporting and strategy can help grow their company.
Key Components
Now that we've gone over what a sales report is and how they can help you and your business, let's discuss the key components of the report itself.
Summary
The summary of your sales report allows you to get any important background out of the way and define your goal for the report. What are the most important figures or information you need to discuss?
Use this section to get those key numbers out of the way so you can focus on giving context in the next section.
Sales Figures
Although we've already encouraged you to list your most key figures in the Summary section, you'll also need to breakdown some of these numbers and expand on them in this section. What this section includes exactly will be different for every business, but here are a few metrics to get you started:
The number of deals at each stage of your sales pipeline

The average deal size and the value of every deal closed

The close rate (how many new leads are needed to close a single deal)

The length of your sales cycle (or how long it takes to close each deal)
Data Interpretation
Now that you've gathered all relevant numbers and information, we have to interpret it with previous periods to give context. How has your sales volume changed or grown? How do your metrics compare to previous quarters or months? How many more leads have you generated? How many more sales have you closed?
One of the best ways to do this is with the use of charts or graphs to visualize how this period's numbers compare to the previous one.
It's also incredibly important to use this section to describe any factors that impacted your sales volume and analyze them in order to figure out what went wrong or what went well. This will let you continuously improve and maximize your sales.
Expert Sales Report Tips
Though the basics are important, there are many extra tips that can help you reach the next level with your sales reports. Here are a few of them.
Keep A Goal In Mind
Every report needs to have a purpose or goal to work towards. Keeping this in mind will help guide your report and make it cohesive, instead of getting stuck on unrelated information. It will also help you prepare for your next reporting period, as you already have your goals outlined for you.
This goal will also affect the structure of your report and its type; for example, a weekly overview sales report will include very different information and follow a different structure. If you want to boost sales, your report will focus on sales activity and account growth over time.
Know Your Audience
The audience of your sales report is incredibly important in identifying how to write your report and what to include in it. A report meant for team members will be very different than one meant for board members or upper management.
The background of your audience is also important to keep in mind when writing your report. If your audience is already heavily familiar with sales reports, you might not have to include as many terms and definitions or explanations as you would for someone less familiar with them.
Stick To A Schedule
Keeping a schedule for sales reports is an easy way to make them routine and keep your team on track. This will give your reports more value as you now have regular information to analyze and compare to.
Furthermore, keeping a schedule will also determine the type and length of your sales report, whether that be daily, weekly or monthly.
Organize Your Data
Keeping your data organized is one of the key parts to creating an easy, stress-free sales report. Whether this comes in the form of manual data submission or an automated CRM or reporting solution that automatically tracks and formats information, it's always important to keep your data in order.
If you're collecting info from others, make sure you communicate your data requirements and entry expectations (e.g. which metrics to include and track) to everyone on the sales report. Some of the most important metrics to keep an eye on can include sales pipeline coverage, opportunity win rate, monthly new leads, and monthly sales.
Picking the right information to share is also incredibly important, and will depend both on the type of sales report you choose and the audience you're writing for. Here are some of the most common key questions to keep in mind when screening information:
Are you meeting sales goals?

How do your sales compare to previous periods?

What are your gains and losses for this period?

Which services or products are selling the most? Which ones fall short of your goals?

What is your sales forecast for the next period?

What are key opportunities for growth in your sales? What assistance do you need to meet these expectations?

What are your key roadblocks and challenges?
Use Automated Software
Our final tip for creating stellar sales reports is to use automated software to collect and manage your data and information. This could be through the use of a CRM system such as Hubspot or SalesForce, or with the use of automated reporting software like ScrumGenius, which allows you to collect easy metrics and context from your team members on a daily, weekly, monthly or ad hoc basis.
ScrumGenius allows you to ask a few easy questions to gather sales information from your team, such as client worries and pain points and how to remove them, new leads per period and lead conversions, and sales growth.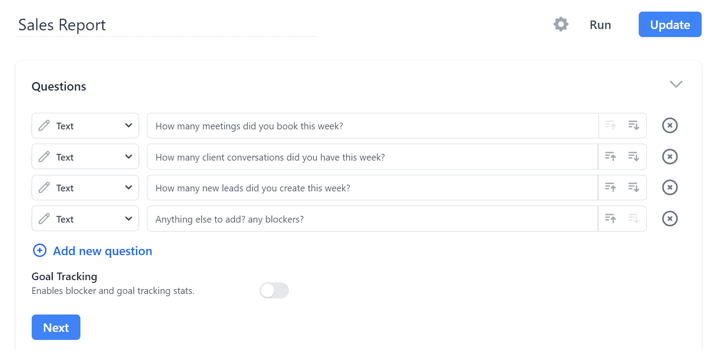 To find out more about how to use ScrumGenius for sales reporting, check out our sales report template.
Different Types of Sales Reports
Finally, let's expand a little further on the different types of sales reports to help you choose which type is best for you and your team.
Daily Call
Daily sales reports are great for focusing more on process metrics (things sales reps can directly control, like the number of calls sent out) rather than metrics dependent on outcomes (metrics you can't control, like revenue earned).
This is where the Daily Call report comes in. It measures metrics such as the number of calls made in a row, the specific types of calls made (including the absence of specific types of calls) and the average duration of a call.
One of the most important things to keep in mind for these sales reports is that not all accounts are equal; some will need to be called on more frequently than others. A Daily Call will help you figure out the right amount of calls for your team and whether or not a sales rep is sticking to that schedule or not.
Productivity Sales Report
Much like the Daily Call report, a productivity sales report focuses on the calls sent out, though it offers more of a summary of the amount of calls and their type for managers.
The data included in a productivity report may include the number of outbound phone calls, emails, customer meetings and product demonstrations, as well as the amount of proposals generated in the given period. 
In turn, this data allows you to compare results against your set benchmarks for each category. Some questions you may want to ask to guide report include:
Where in the sales cycle is the rep below or above their productivity quota?

Are there any areas where they are consistently ahead or behind?

How do the areas where a sales rep is behind or ahead of the productivity quota affect the next phase of the sales cycle?
Sales Pipeline
A Sales Pipeline will consist of all prospects that are actively being pursued by a representative. Often, these will be separated by their specific phase in the sales cycle as well. 
This information allows managers to track the total number of prospects a rep is working on at any given point and how quickly a prospect progresses from one stage of the sales cycle to another.
The sales pipeline often has five typical phases. The first and second phases are when the "decision maker" expresses an interest in the product or service, and when the salesperson meets with the decision maker for the sale. In the third phase, the decision maker participates in a product demonstration, and in the fourth, the proposal is submitted. Finally, in the last stage, the sale is either closed or lost.
Sales Forecast
There are two common types of sales forecasts: the regular sales forecast and the long-range sales forecast.
The regular sales forecast is often one of the most important documents in a sales company. It holds representatives accountable for the deals they want to close by the end of each month, helps determine which opportunities need attention from higher-ups, and helps to estimate the revenue generated from each sale.
The sales forecast shows only prospects in the final stages of a sale, often within a few months. Keeping this report accurate is extremely important, as it can affect the entire organization.
Here are some important questions to ask when writing a sales report:
In which months is a sales rep typically above or below their sales quota?

Does revenue typically drop in any particular month?

How many accounts are dropped or added from one month to the next?

Does the sales rep have an easier or more difficult time achieving their quota in one product line or another?
Likewise, a long-range forecast keeps track of sales prospects planning to buy anywhere from four months to two years within the initial contact. Many of these sales include RFPs, high competition and the potential provider replacement. Many also include involvement from higher-ups.