Microsoft Teams is an incredibly useful app, and it's helped many businesses boost their workflow and communicate better. It also has a ton of customizable features to help it work for every team.
But all of this extra functionality can make Microsoft Teams hard to adapt to, especially if you don't have a lot of familiarity with instant business messaging platforms. That's why we've started this handy guide to help you get started with the app and boost your productivity. As we want it to be as detailed as possible, we're going to break it up into several parts for greater clarity.
Let's start off with the basics and get you introduced to the fundamentals of Microsoft Teams—what it is, how it can help you, and what you need to know to get started on the platform.
What is Microsoft Teams?
Microsoft Teams is an incredible workplace communication tool that can help many teams boost their productivity and get more work done—especially in times like these where many companies are shifting to remote work. With Microsoft Teams, you can private message coworkers, participate in group chats with your team, attend video meetings, and much more.
Who is Microsoft Teams For?
Microsoft Teams is for everyone, though it was made with professional teams in mind. This could mean traditional office workers, or the founders of a startup, or even a remote team scattered around the world.
How Can Microsoft Teams Help Me?
It can help everyone by allowing for instantaneous communication so your team can stay on top of work without important information falling through the cracks. Instead of having to send multiple emails to get clarification or collaborate on a project, you can simply send a message or update a group channel. This means less clutter and gives you a more centralized location for info, so you can focus on getting more important work done.
Terms to Know
Microsoft Teams can come with many unfamiliar terms that make on-boarding more difficult. Here's a quick overview of some of the most important terms to bring you up to speed:
Tenant: in Microsoft Teams, a tenant is the organization or company you're working under. You can have multiple tenants, but all of that organization's teams will fall under its umbrella.
Team: any smaller group within a tenant. You can have multiple teams per tenant, allowing you to communicate in large or small teams as you'd like.
Admin/Owner: the team's admin is the person (or persons) who have control of your team and can make important changes to your team's settings.
Members: these are all other members of your teams.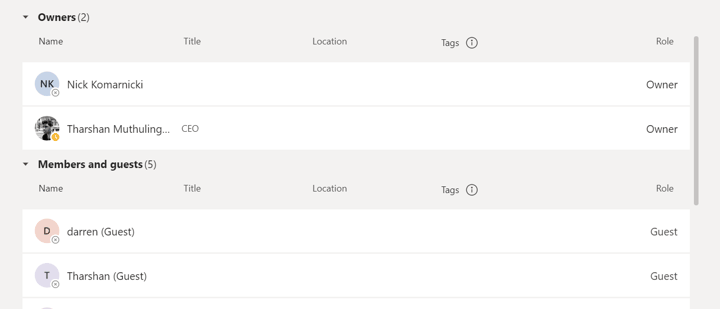 Apps: these are any apps, bots or connectors that integrate with Microsoft Teams. These can help you improve your productivity even further, which is why we'll talk about them more extensively later.
Tabs: these are apps that operate in a separate tab within Microsoft Teams so you can use their functionality without even having to leave the platform.
Let us know your thoughts on our series and if there's anything you want us to focus on and cover. If you want to read more, check out the next part of our series on setting up your Microsoft Teams account.