At ScrumGenius, our goal is to help our customers boost their productivity and communication to make your workflow run smoother. That's why we're a fan of Zapier, an automation app that helps you connect your everyday apps together to help keep everyone up to date and on task.
What is Zapier?
Zapier is a helpful tool that automates those little mundane tasks for you, so you can focus on the work that actually matters. It connects with over 2000 apps like Gmail, Slack and ScrumGenius to help you push important information and trigger actions in Zaps so you don't have to.
How Can Zapier Help Me?
Zapier helps automate smaller, repetitive workflows such as copying information between platforms or collecting data. By connecting the apps you and your organization use on an everyday basis, Zapier allows you to focus on the tasks that really matter and work more efficiently. That means less time wasted and more work can get done.
How Does Zapier Work?
Creating your first Zap is easy, and only requires three steps.
First, under the Zapier Creator, select a Trigger step. Select the app you want to trigger an action, and the event you want as the trigger from the drop-down menu. Fill in any additional information necessary and any authentication if required. Next, add the action step, and list any input fields you want Zapier to map. Finally, you can add any additional filters or additional action steps to your Zap, add a title, and then save it.
For example, ScrumGenius' integration with Zapier has three action types to choose from: Add Custom Activity, Run Report, and Find Incomplete Check-ins. The Add Custom Activity action allows you to bring data from other apps into ScrumGenius, where it will be displayed under your standups and in Team Activity. Furthermore, Run Report automatically triggers a standup release when an action on another platform happens, and Find Incomplete Check-ins lets you check how many team members have completed their check-ins when your trigger action occurs.
Zapier allows a wide variety of possibilities with their Zaps, so we've created a couple templates to help ScrumGenius users work smarter.
Run a Team Retrospective Report at the start of every month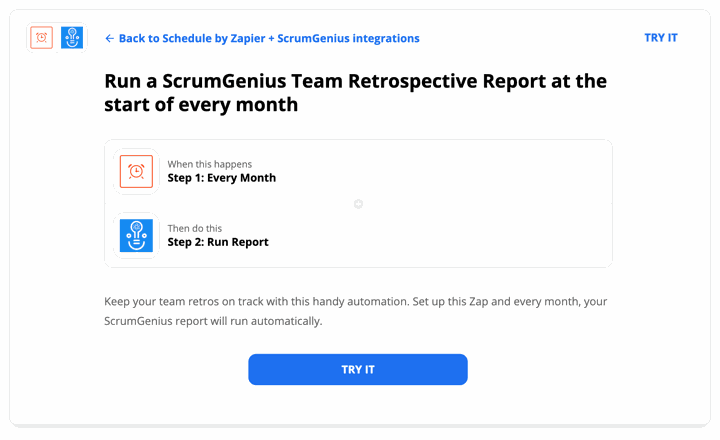 If you want to start using Zapier, check out ScrumGenius on Zapier.