Slack has revolutionized the way business teams communicate and collaborate, and it's helped many companies drastically improve their productivity and workflow. But there are ways to up efficiency even further, and many of them can be found in Slack's app directory.
Here are ten tools to help your team boost workflow and increase productivity with Slack.
Donut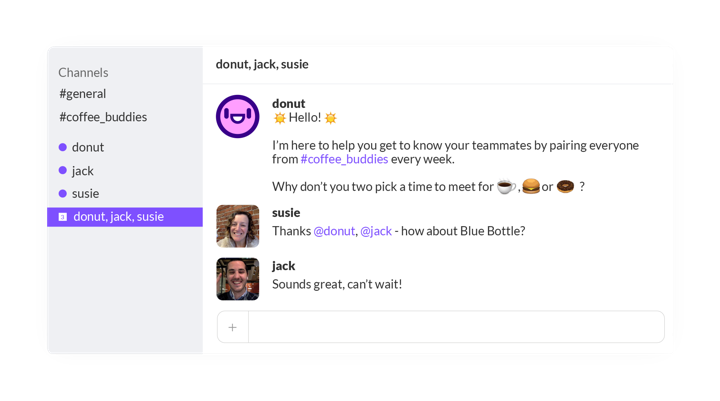 Donut helps build and strengthen connections within teams by randomly pairing coworkers together via Slack for coffee or lunch, cultivating collaboration and creativity between team members. Donut is especially helpful for onboarding new employees as it can help familiarize them with your company and get them up to speed quickly.
Donut also allows many opportunities for customization; for instance, you can:
Create multiple Slack pairing channels for different office locations, teams or interests
Select custom introductory messages, pairing frequencies, and group sizes
Create unique employee onboarding experiences for different roles and locations
Get real-time insights into your team's connections
Download Donut for Slack here.
Polly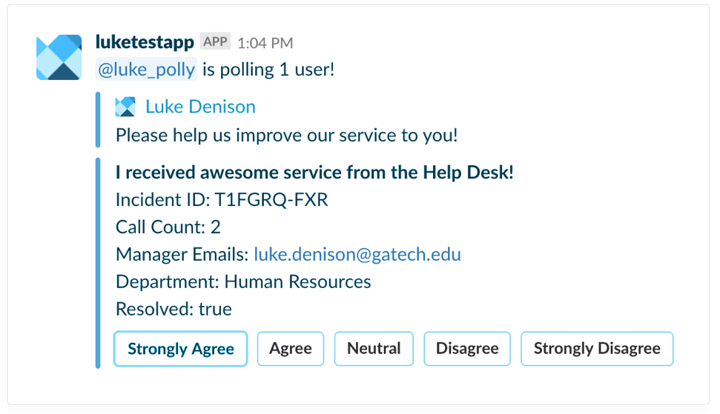 Polly allows teams to create unique polls within a Slack channel and view their real-time results and stats, and it has been proven to boost survey participation rates by over 30%. All you have to do is mention @polly in your chosen channel and add your poll to start collecting feedback.
Polly also has many advanced features for added customization so your polls can be as diverse as your team, such as:
Anonymity controls, multi-voting and results hiding
Scheduled or recurring polls and surveys
Eight different question types and added options
Automated reminders and shareable templates
Event-based, triggerable surveys
Advanced and exportable analytics
API access so you can programmatically send surveys and results
Download Polly for Slack here.
Trello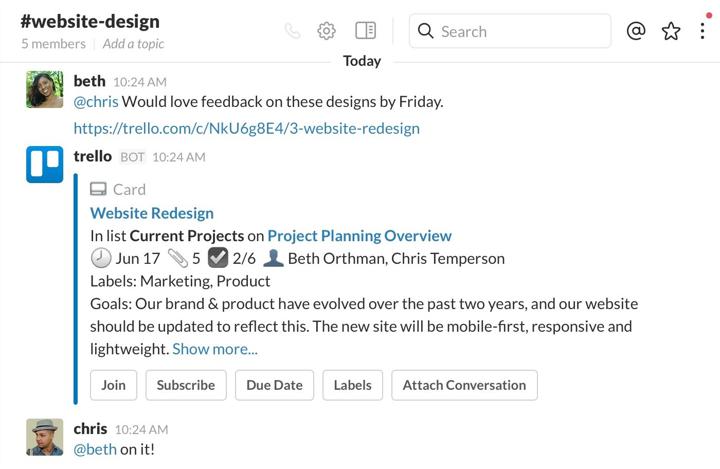 Trello lets teams visually collaborate on and manage to-do lists and tasks within Slack itself. Through allowing teams a shared perspective on projects, it can boost your team's efficiency and create a more productive workflow while preventing tasks from falling through the cracks.
The Trello app automatically notifies your Slack channel of any card changes, so everyone is kept up to date without having to go and manually check for updates.
With Trello's Slack app, you can:
Add new Trello cards to boards in Slack with /trello add
Join Trello cards or boards, change due dates, and attach conversations
Invite @trello to a channel for automated card and board previews
Allow Slack team members to easily join your Trello teams and boards
Download Trello for Slack here.
GitHub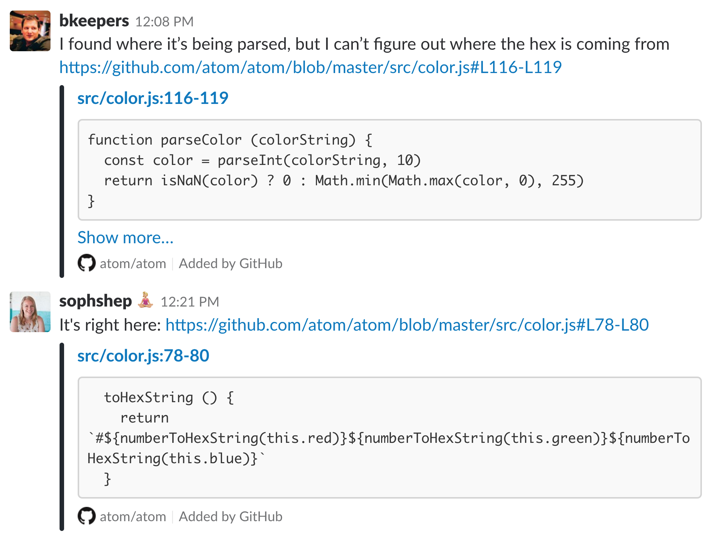 The GitHub app allows developers to seamlessly manage and collaborate on GitHub code within Slack. By sending notifications directly into your chosen Slack channel, your team can stay updated on pull requests, code issues and code reviews so everyone knows what tasks to focus on.
The app also notifies the team when someone opens an issue or request, meaning everyone is aware of their coworkers' tasks and can in turn have a clear agreement on accountability.
With the GitHub app for Slack, you can:
Subscribe to repositories about a particular project with /github subscribe [owner/repo]
Get updates on new commits, pull requests and issues as well as code reviews and deployment statuses
Share detailed information on pull requests, issues, linked comments, code snippets and developer profiles when you link to GitHub activities and properties
Trigger actions with slash commands via /github [action] [resource] such as closing an issue or pull request, reopening an issue or pull request, or opening a new issue
Download GitHub for Slack here.
Zapier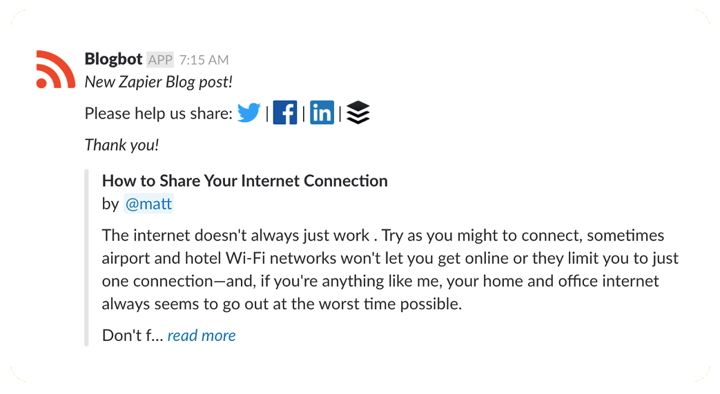 Zapier moves information between these other platforms and Slack in automated 'Zaps', allowing you to bring calendar events, to-do lists and lead details directly into your team's channel to save you the time of having to go back and forth between platforms yourself. Instead, you can focus on more important things to keep up your workflow.
Some examples of what kind of Zaps you can create:
Post the details of any new orders from your store onto a Slack channel
Move items from Slack into project management apps like Asana or Trello
Forward customer support emails or social media messages into a shared Slack channel
Bring form or survey responses into Slack
Download Zapier for Slack here.
ScrumGenius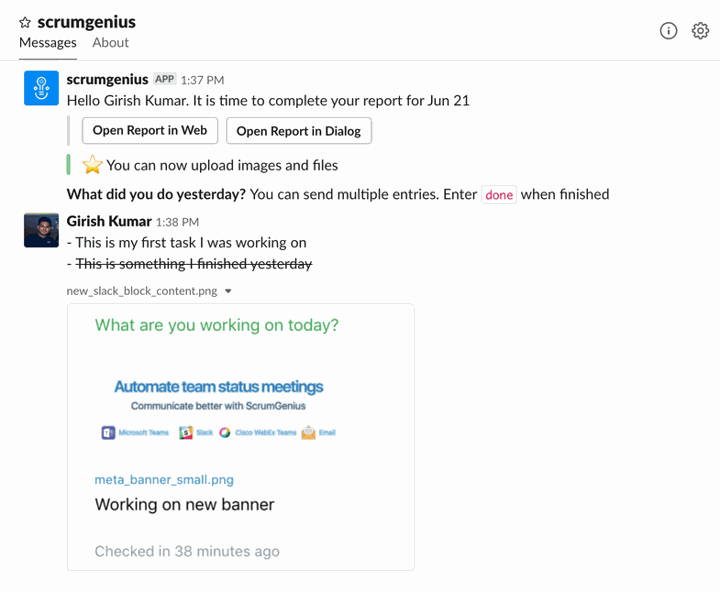 ScrumGenius uses a bot to run automated daily standups for teams on Slack. By taking out the inefficiencies commonly found in prep work for traditional, in-person Scrum meetings, ScrumGenius fosters better communication between team members and can boost overall productivity.
Every day at a set time, the Scrum bot asks team members a series of set questions on what they accomplished yesterday, what they plan to accomplish today, and what blockers they have encountered.
Some other features of ScrumGenius include:
Daily summaries of your team's results sent directly to your inbox
Multiple report configuration and access sharing with multiple managers
Custom question configuration, personal time zone settings and profile photos
Integrations with Github, JIRA, Azure Boards and Azure Repos, and others through Zapier
Detailed individual analytics for your team's blockers, goals and participation count
Download ScrumGenius for Slack here.
JIRA Cloud
JIRA Cloud is an agile project management tool that integrates with Slack to let team members track issues and bugs for different projects. JIRA can help anyone from marketing teams to customer service representatives to software designers reach their full potential and better organize their workflow.
This app sends custom notifications to a Slack channel about any JIRA activity and lets members create new tickets without even leaving the app. That way, any blockers they encounter can be tackled quickly and effectively.
Other features of the JIRA Cloud connector include:
Previewing JIRA issues when mentioned in a channel
Attaching messages to JIRA Cloud issues so you can create connections within conversations
Viewing and creating JIRA tickets within Slack itself
Download JIRA Cloud for Slack here.
GrowthBot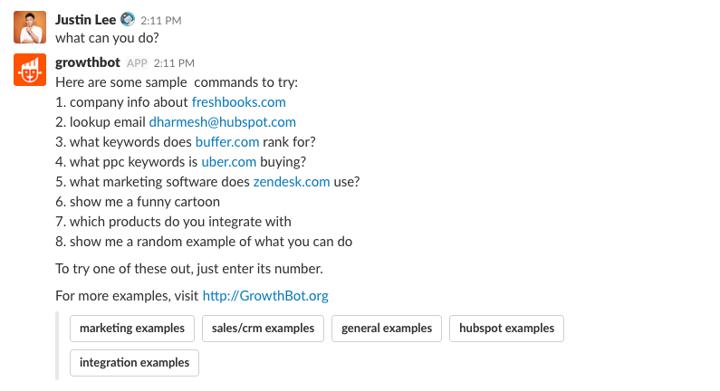 GrowthBot is a Slack app that essentially acts as a personal assistant for marketing and sales teams. Made by HubSpot, GrowthBot connects to a variety of different apps like HubSpot Marketing, HubSpot CRM, Google Analytics and MailChimp to give you quick and easy info on your sales and results. The bot's natural language interface allows you to ask questions just like you would ask a colleague and get instant responses and data on dozens of queries.
Some of the things you can ask GrowthBot include:
Company info about your company or your competitors
Keywords your competitors rank for and what keywords they're buying
Stats on your organic traffic
Information on specific people via email lookup
Prospective customers based on location and business type
Personality profiles from email addresses
Who your top social media followers are
Download GrowthBot for Slack here.
Yala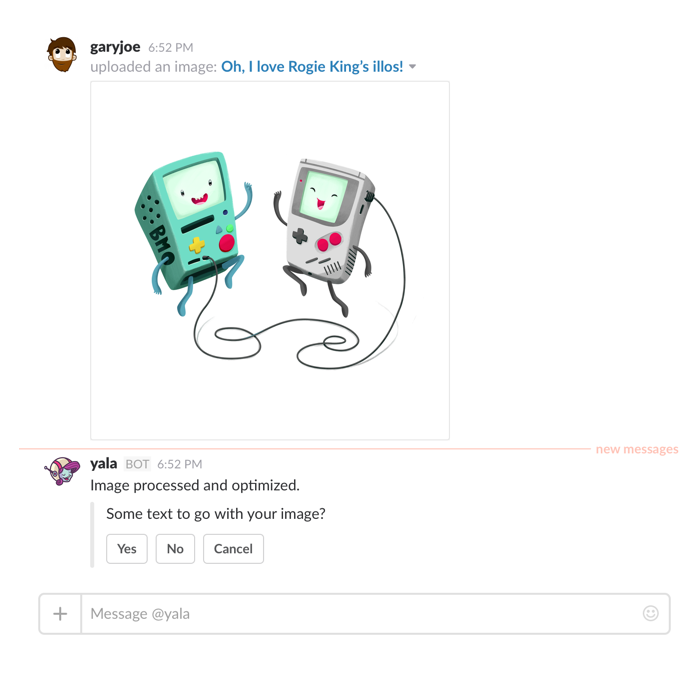 Yala is a smart tool that integrates with Slack to make social media marketing easy. It takes the time out of having to post on multiple social media channels and optimizes them by automatically posting them at the right time so they get the most eyeballs.
Yala allows your team to collaborate on posts in a specific channel, so you can work on posts together and get feedback immediately. But don't worry—Yala makes sure managers or editors approve or disapprove all posts before they get sent out, so nothing ever gets sent out without being checked.
Some other features of Yala include:
Multi-Channel Marketing: one Yala post gets published on multiple platforms such as Twitter, Facebook and LinkedIn with nuanced differences
Asynchronous Deployment: Yala will individually deploy each of these posts when it detects high engagement on that platform
Machine-Learning: Yala uses an algorithm that learns from your audience over time, so it knows when they're online and when they're more likely to share your posts
Drift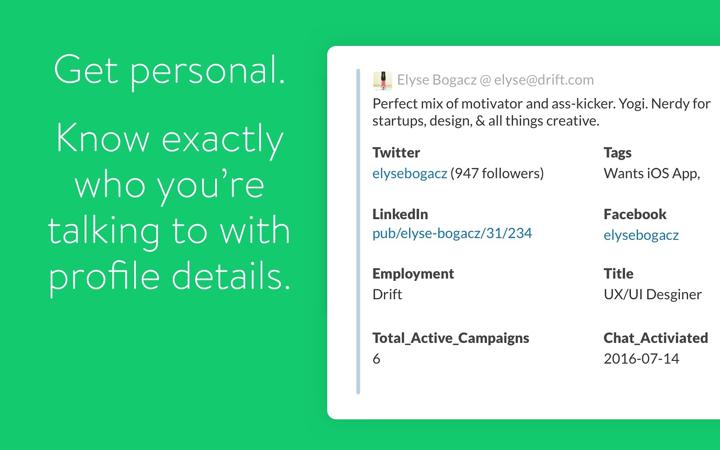 Drift allows customer service and sales teams to manage conversations with sales leads and customers within Slack. Each time a lead starts a conversation with the Drift widget on your site, a message will be sent to you in a chosen Slack channel. You then have the option of replying to it in Drift or within a new Slack channel, so you don't even have to leave the app to respond.
With Drift for Slack, you can:
Get instant alerts when leads are viewing your website
Receive and respond to messages in real-time within Slack or on Drift
Get personal details via data enrichment when a customer gives you their email
Change conversations to Open, Closed or Pending