While there are numerous project management tools out there, one of them stands out the most: Slack. You have probably heard about Slack being an amazing communication and collaboration tool, but did you know that you can also use it effectively for project management?
Even though the majority of a project manager's time is spent collaborating with the team and communicating with various stakeholders, successfully managing projects requires a variety of tools and platforms working together. 
ScrumGenius gives you just that: by integrating Slack with the ScrumGenius app, you will be able to automate your status reporting, spend less time in unnecessary meetings, and communicate with your team members more effectively.
So how can you effectively use Slack for project management? In this article, you'll learn:
What Slack is

Using Slack as an effective project management platform

Why you should use Slack for project management
What Is Slack?
Slack is a workplace chat app for professional communication and collaboration. With more and more businesses operating in a virtual environment, it is a great way to keep in contact with your colleagues.
In a nutshell, Slack is an instant messaging system with numerous workplace tools and add-ins. You don't necessarily need add-ins to use Slack, but, when integrated with other project management apps like ScrumGenius, Slack can truly turn into a one-stop-shop for all of your operational needs.
Using Slack for Effective Project Management
In order to effectively accomplish project management tasks, you generally need to have three things:
Excellent organizational skills and expertise

An established set of best practices and processes

A suite of project management tools 
And this is exactly where Slack comes in! 
According to a 2017 survey, teams who use Slack for their workspace get better results and benefit from better workplace collaboration and communication.
In fact, teams using Slack reported to have:
23% fewer meetings

32% less email

27% less time needed for software testing

24% of features delivered before the deadline (in technical teams)

10% increase in employee satisfaction level
In other words, when using Slack, teams felt happier and were able to finish their work faster and to a higher quality standard. Isn't that what every project manager dreams of?
What Makes Slack the Best Project Management App
Still not convinced? Here are the top four reasons why Slack is the best project management app out there:
1) Integration with Other Apps and Tools
Being a communication tool at its core, Slack is not meant to replace your project management tool. For most of the projects, you will still require something else to complete all the required tasks.
The good news is that Slack can integrate with numerous apps and tools. This makes it ideal for project managers, as you can use your favorite project management platform, while your team members get their real-time notifications in Slack.
For example, when integrated with Slack, ScrumGenius enables virtual, automated standups to connect with remote team members for better meetings and reduce communication overhead.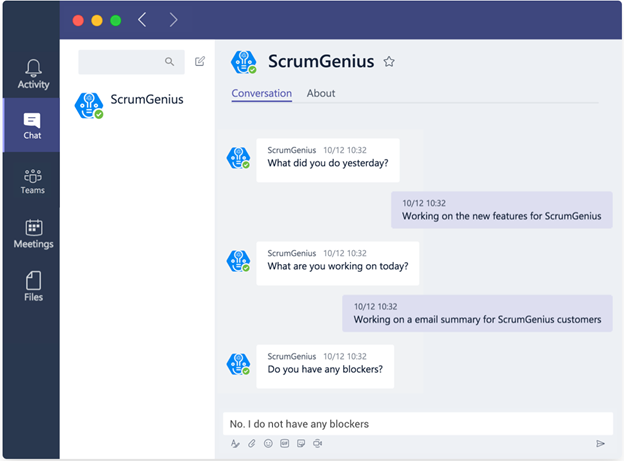 Slack integration also features JIRA, Azure Boards & Repos, Github, Trello, Asana, Gitlab, Zapier, Clubhouse, and Outlook (among others), so you can easily streamline all of the workflows into a single platform.
There are many Slack project management tools in its app directory. It's a great platform for project managers wanting to streamline more of their processes online, instead of relying upon an isolated project management software. 
2) Status Reporting Automation
Meetings, approvals, status updates, reviews… When managing a project, there is so much to keep track of!
Luckily, you can easily set up various automated reminders with Slack. You can:
Create a reminder for yourself

Set a reminder to review a message at a later time

Create a custom reminder for virtually anything

Connect to third-party apps 
For example, if integrated with Slack, ScrumGenius can send you automated check-ins. This will instantly reduce all the inbox clutter by collecting all the check-ins for virtual meetings into a single page email summary.
Essentially, ScrumGenius automates your meeting minutes, so you don't have to worry about sending them to your clients to keep them updated.
3) Shorter Meetings
Let's be honest: nobody likes prolonged meetings. All the team members lose focus, get hungry, and lose their drive.
If you add ScrumGenius to your Slack app, you will be able to have quick and sweet virtual asynchronous standup meetings. In addition, you will be able to easily review and analyze your standup data.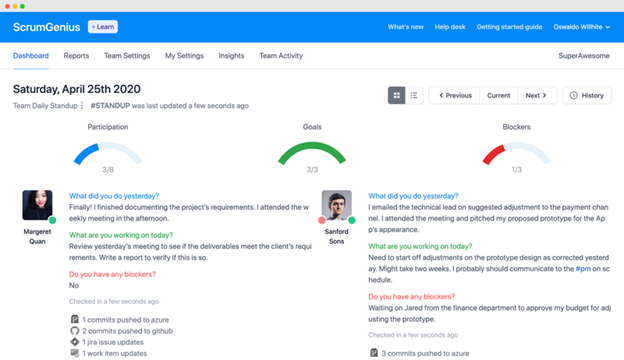 By using Slack's integration with ScrumGenius, you will be able to improve your team's transparency and get actionable insights without the hassle of long everyday meetings.
4) Better Collaboration
As the size of your team increases, it is absolutely necessary to spend more time communicating with your team. However, it is easy to drown in endless meetings and notifications, so that you barely have any time left to get the actual work done.
In addition to sending direct messages, you can use Slack channels for entire teams. For example, most companies have separate Slack channels on marketing, dev team, and so on. You can also share documents or integrate them with Google Docs or Google Drive to get updates on changes in files you're collaborating on. 
By combining the power of Slack's instant messaging and reducing time-consuming meetings and routine communication with ScrumGenius, you can bring your communication overhead down to the minimum.
5) Using ScrumGenius and Slackbot to automate your project management communication
The Slackbot is a chatbot you can interact with to get things done. To use it, you can send it a direct message, and it can react to many text commands. Here are some of Slack's text commands to know about.

These can include deadline reminders, quick questions, and sending automated messages to your colleagues.
Integrated with Slack, ScrumGenius also acts as a bot that automatically asks you about your tasks.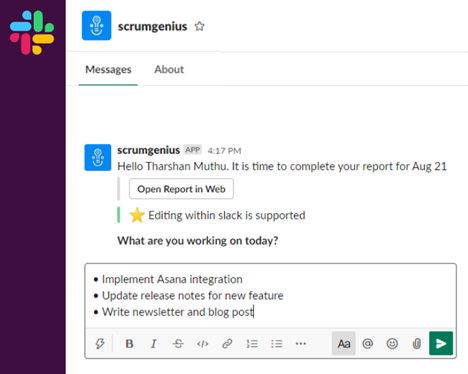 Instead of running after your colleagues for answers and updates on project progress and task updates, the ScrumGenius bot regularly asks them for these. 
You can also then use these answers for more effective interviews. This makes your task management process more efficient and easier to handle as your organization grows larger.
Automate Your Project Management by Using Slack With ScrumGenius
If your team isn't using Slack for project management yet, now is the time to give it a try. However, project managers should not forget that it is a communication and collaboration tool more than anything.
To turn Slack into a full-on project management tool, you need to integrate it with a variety of other tools and applications, such as ScrumGenius.
With the right tools, workflow processes, project channels and so on Slack can be a formidable platform for task management.
By using Slack with ScrumGenius, you will be able to make your team more agile and flexible, spend less time in meetings, and get more work done. Install the ScrumGenius app today, and you will be able to manage all your projects with ease and always stay on top of your tasks.