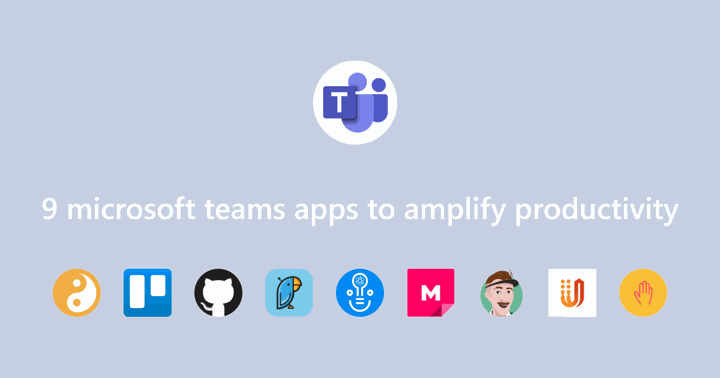 Microsoft Teams is an amazing tool for business, and it can dramatically boost your team's communication and workflow. But many people are unaware that Microsoft Teams also supports integrations, including several add-ons that can further boost productivity and collaboration within your team. We've listed our top nine Microsoft Teams integrations to help keep your teams efficient and on track.
GitHub Enterprise
The GitHub Enterprise add-on allows developers to manage and collaborate on GitHub code within Microsoft Teams. The connector keeps your team updated on GitHub projects by sending notifications directly into a specific Microsoft Teams channel for them to view, so everyone is kept up to speed on what needs to be done.
With the GitHub Enterprise add-on, you can:
Share issues and GitHub code snippets with your team
Get notifications when someone opens an issue
Have a clear, shared record of accountability
Download GitHub Enterprise here.
Trello Connector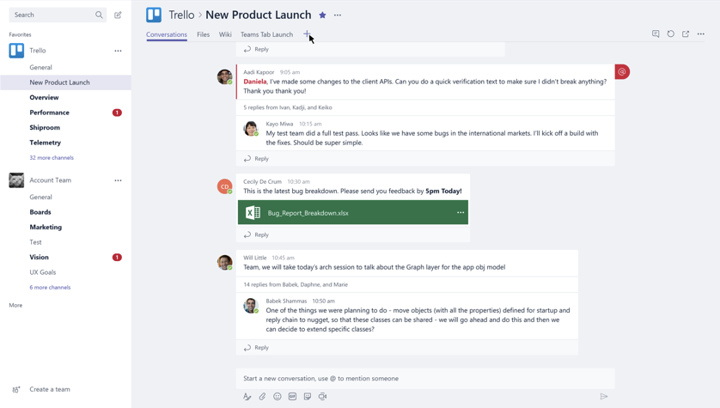 The Trello Connector allows team members to collaboratively manage to-do lists and tasks within Microsoft Teams. This integration notifies your team when there's any activity within Trello, so everyone is kept up to date on their work for the day without having to leave the app to check for updates manually.
Trello will send you notifications when:
A card is created or moved
A member is assigned to a specific card
A comment or attachment is added to a card
Download Trello Connector here.
Polly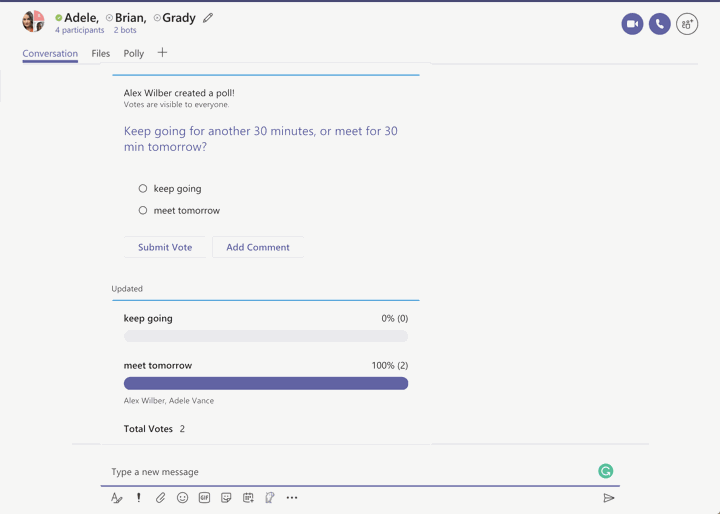 With Polly, team members can create polls within a Microsoft Team channel or group chat and view real-time results and analytics as they come in. All you have to do is mention @polly in your chosen channel and create your poll.
Polly allows advanced polls for extra customization with features such as:
Anonymity controls and results hiding
Poll scheduling and multiple voting
Eight different question types and other options
Karma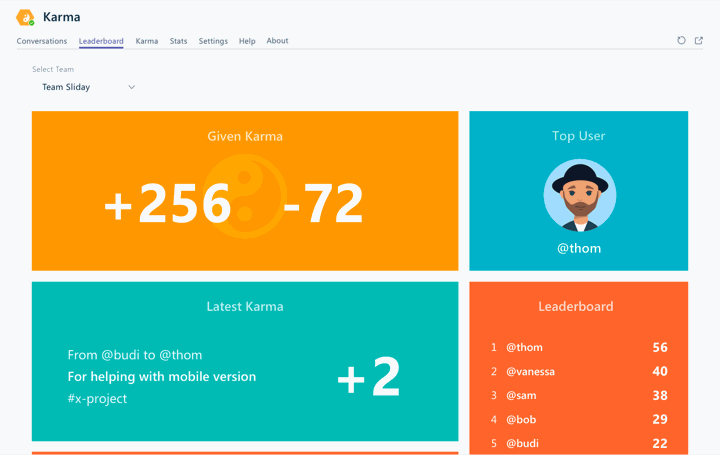 Karma is an in-chat peer engagement and recognition system that records encouragements and the 'thank you's that normally aren't said out loud. Even more, Karma utilizes performance tracking so reports can be generated for managers, fostering healthy competition between coworkers and keeping everyone up-to-date on their achievements.
With Karma, teams can:
Reward each other with karma points and appreciation
Build user profiles to provide team leaders with actionable HR insights
Give micro-feedback to improve performance
Stay on top of their team activity and visualize stats in the dashboard
ScrumGenius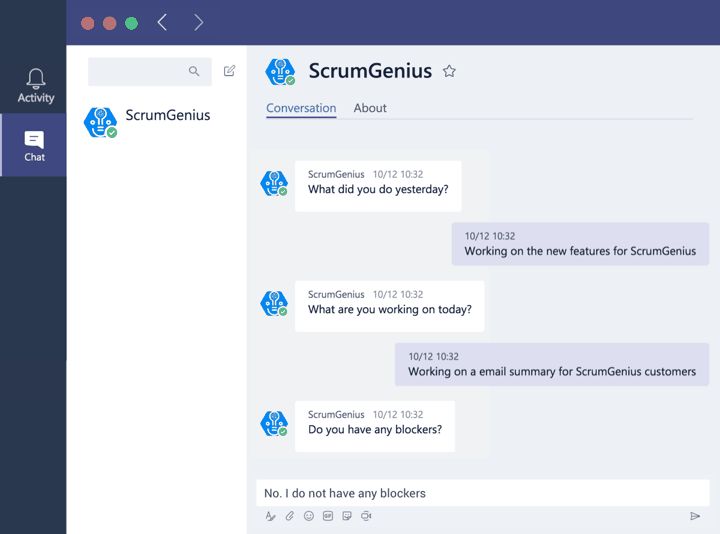 The ScrumGenius bot runs automated, daily stand-ups in Microsoft Teams to boost productivity and communication within your team. Every day at a set time, it asks team members a series of questions on what they accomplished yesterday, what they plan to accomplish today, and what blockers they encountered. ScrumGenius will then email a summary of the team's results to you so you have a record of what happened each day.
Some of ScrumGenius' other features include:
Integrations with GitHub, JIRA, Azure Boards and several other platforms through Zapier
Multiple report configuration and access sharing with multiple managers
Custom profile, notification and time zone settings
Specialized reports with customizable questions to track goals and blockers
An easy interface with multiple ways to submit standups on mobile and desktop
MailClark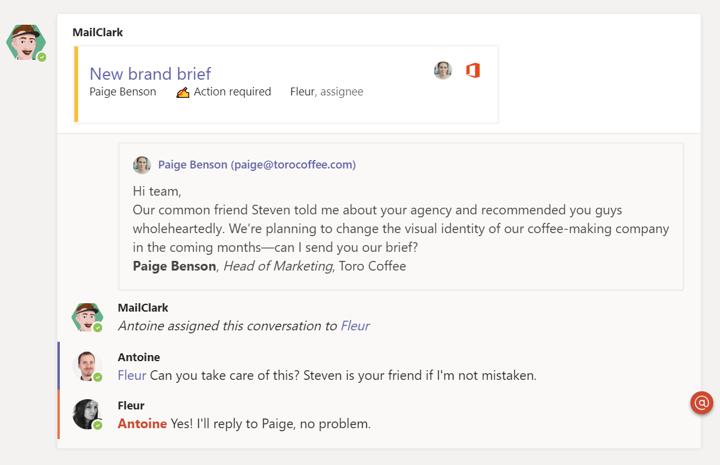 MailClark lets teams respond to and send external emails and social media messages within Microsoft Teams, creating a smart, shared inbox to optimize productivity. It's especially helpful for customer support, marketing and sales and recruitment teams, as it ensures continuity in conversations with leads and customers by keeping everything in one place.
With MailClark, you can:
Centralize all of your team's communication tools, such as email, Facebook and Twitter within Microsoft Teams
Receive and send external messages from all of your tools without leaving the app
Collaborate directly by assigning members to messages and keep track of their status
UserVoice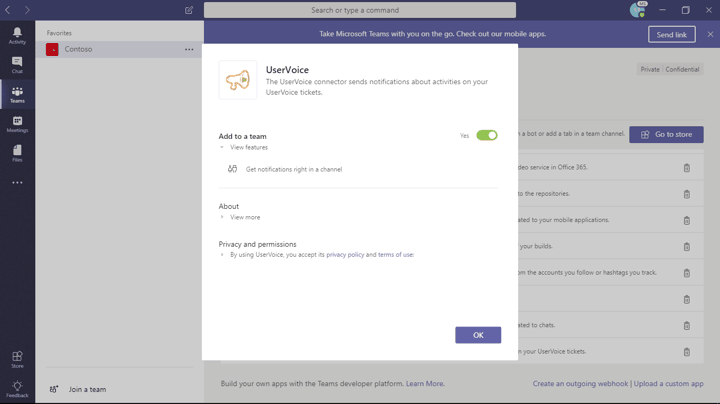 The UserVoice connector allows you to collect customer ideas and feedback and respond to their problems in a timely manner. This connector will send all updates to your UserVoice tickets directly into a chosen Microsoft Teams channel so you can view them together with your team and deal with them as quickly as possible.
With UserVoice, you can:
Get notified in real time about customer feedback and work on them together
Automatch customer feedback to already-existing submissions as they type to cut down on duplicates
Easily view opportunities for improvement for your company
AttendanceBot
AttendanceBot is a Microsoft Teams add-on that takes the work out of time tracking, absence management and shift planning by letting you easily keep track of your hours, request time off or change their travel status by direct-messaging the AttendanceBot. All of this data can then be viewed together on the dashboard by managers and employees alike.
AttendanceBot also includes:
Custom policies for multiple offices and locations
Specific statuses for travelling or working remotely
Reminders and alerts about shifts, especially for tardiness
Multi-level approval systems
Easy CSV or Excel export options and calendar integrations
Timesheet and payroll reports as well as break/lunch tracking
MURAL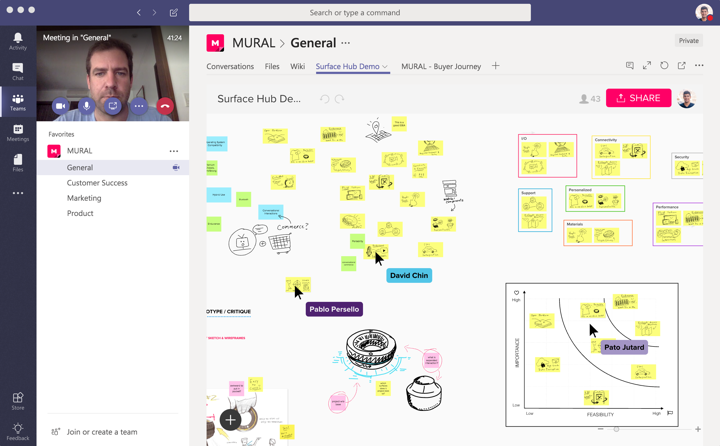 MURAL offers your team a digital workspace for collaboration and innovation that can be viewed on any device, and it comes in three parts that help foster creativity within your company:
A custom, dedicated channel for brainstorming and diagramming where you can add canvases into the chat and have teams collaborate on them in real time
A Microsoft Teams bot that sends you notifications via a private chat message when someone mentions you or invites you to a mural
A messaging extension that allows you to find and share a MURAL template within any conversation so it can appear alongside its context
Wiki
The Wiki app is a default app in Microsoft Teams, included when you create a channel. This tool can be used as a central knowledge repository and a dedicated workspace for your members to keep notes within Microsoft Teams.
In a nutshell, Wiki is a smart-text editor that is easily accessible so that you don't have to dig through your documents to find a specific article. 
With Wiki, you can:
Chat, edit, and draft all in one place

Store an easy how-to guide, so all the members of the team can be up to date and follow basic rules

Create an FAQ resource and write down the best practices and guidelines for the team
MeisterTask
MeisterTask is a collaboration tool designed to increase task management efficiency within agile teams. This app adapts to your needs and provides you with a personalized dashboard, which allows every team member to have an overview of open tasks, associated time spent, and notifications from other teammates.
With MeisterTask, you can:
Run team brainstorming sessions with mind maps, which eventually turn into tasks assigned to specific people or groups

Monitor project progress with built-in reports and statistics

Automatically receive an email notification when tasks are updated or completed
SoapBox
SoapBox is an incredibly useful app to create a habit of running efficient meetings with meaningful conversations. The main purpose of using this tool is to remove any roadblocks and distractions that waste time during the meeting and create a single space where everyone can interact together.
With SoapBox, you can:
Add tasks to your meeting agenda and check them off as they are completed

Get suggestions on discussion topics and get nudged to add agenda items

Keep track of everyone's next steps

Carry over open items to the next meeting and archive closed items
Health Hero
Health Hero aims to increase well-being awareness and improve the overall health of employees working from home. It is integrated with many fitness apps and allows you to link health tracking devices to keep track of your activity levels.
With Health Hero, you can:
Create fitness challenges and engaging competitions

Have an all-in-one dashboard view, where teams compete against each other

Capture physical activities via media upload and chat
Sign Easy
SignEasy is an app that lets you request critical signatures and sign documents directly in your Microsoft Teams app. Instead of downloading additional software for various types of documents, you can view and sign documents in all formats like PDF, Word, JPG, PNG, Excel, and more.
With SignEasy, you can:
Add a name, date, or other annotation to the document while signing it

Request a signature by adding a recipient's email address and a personalized message

Guide your team through the documents by adding separate fields for each signer