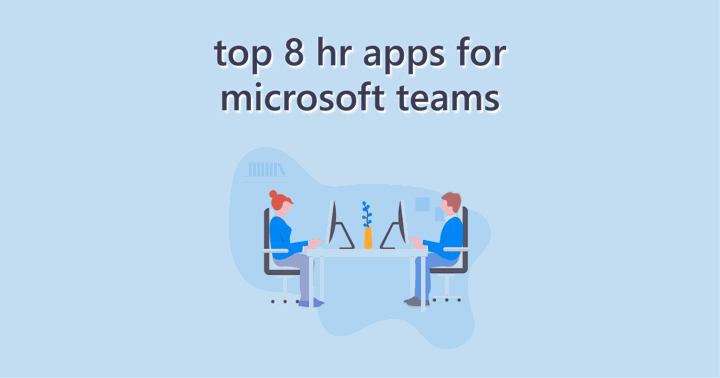 As they shift their focus to working more fluidly and collaboratively, companies are moving their work chats from informal tools like Hangouts and WhatsApp. Microsoft Teams is one such work communication app that companies are opting for. It is responsive on desktop and mobile, and the software's multiple features enable companies to take advantage of the technologies available to virtual work, regardless of their location.
Companies from Air France to NIVEA's parent company, Beiersdorf, use Microsoft Teams to manage their day-to-day activities and keep their work streamlined.
For HR teams, such a powerful communication tool saves time, increases efficiency, and lets you focus on the most important aspects of your job. With smart apps that easily integrate with Teams, you can simplify your work and ensure your company is powered by the best tools.
If you're thinking of getting started with Microsoft Teams, we'll help you set up and ensure you are equipped with the best human resources tools for Microsoft to make your job easier.
Here is our list of the top 8 HR apps for Microsoft Teams that will increase your efficiency and maximize your efforts at work.
Microsoft Teams Apps List for HR Productivity
1. AttendanceBot
Gone are the days of manual attendance tracking. It's tedious, makes employees feel micromanaged and isn't always accurate. What's more, manual attendance tracking is unscalable. Sending an email to the HR and their managers every time your employees take leave is impractical, especially if your company is large. Instead, you need an automated attendance tracking system that allows employees to punch in and out on their own. No hand-holding.
AttendanceBot is your answer! It integrates right into your Microsoft Teams workspace and employees can easily punch in and out within it without needing to go through someone else.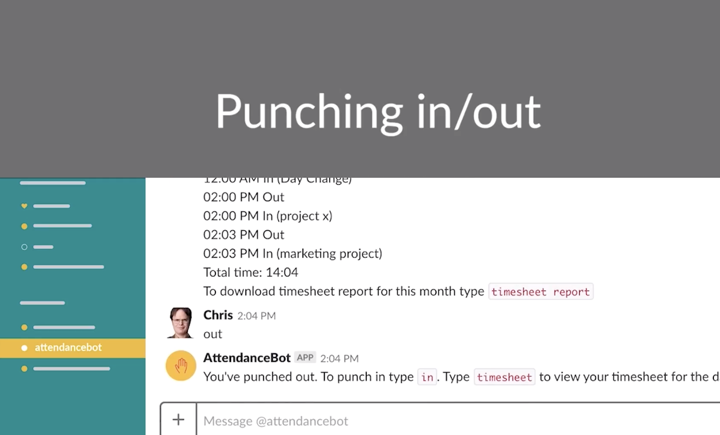 As HR, you have access to the time at which your employees arrive at work and when they leave, giving you a robust dashboard to analyze work hours. What's more, you can assign managers to each employee so that leave requests are sent directly to their assigned manager within Microsoft Teams.
Once their leave is sanctioned, you will receive a notification. AttendanceBot takes care of attendance and leave management without wasting your time while keeping you in the loop.
2. ScrumGenius
Meetings are an essential part of a company's functioning. You can't avoid them, but it's important to not let it hinder work productivity. As an HR, it's your responsibility to not let meetings turn into unproductive, time-consuming sessions.
Many companies have standups, a shorter daily meeting that allows employees to update managers about work status and blockers. Daily standups are effective in keeping your employees accountable.
Transform your daily standups with ScrumGenius and automate your status meetings and cut down on wasted time and money. You can integrate ScrumGenius right within Microsoft Teams and collect responses from your employees about their progress and performance. These answers are collected and can then be broadcast to the team.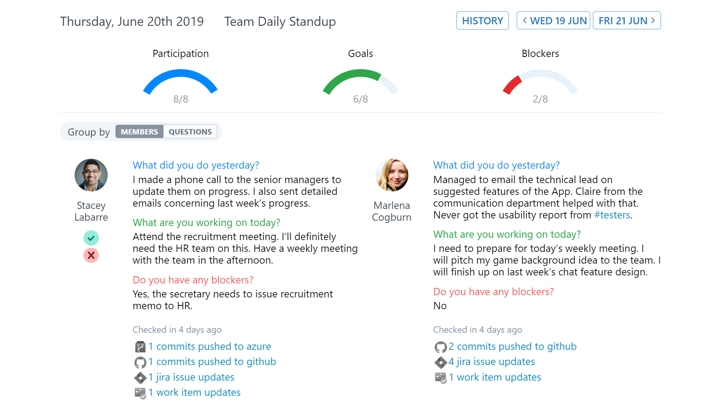 ScrumGenius also stores the collected data and creates reports to allow you to view your employees' progress with ease.
3. OfficeAmp
Imagine getting 20-odd messages every time you step into office, from questions about where the stationery is to what a reimbursement receipt should look like. Your efficiency and your workflow is sure to get hindered.
In every office, there is sure to be a dozen or so questions that are frequently asked. By creating an internal helpdesk and issue management dashboard, you can decrease unnecessary interruptions and allow employees to get around the office faster.
Setup OfficeAmp within your Microsoft Teams workspace to create a comprehensive helpdesk that allows employees to instantly solve small queries. Employees just need to ask OfficeAmp questions and it pulls up the relevant answer quickly.
From the WiFi password to the company stamps, your employees won't have to reach out to you for these daily requirements again. If they have any questions that aren't answered in the helpdesk, the request then comes to you and can be resolved quickly.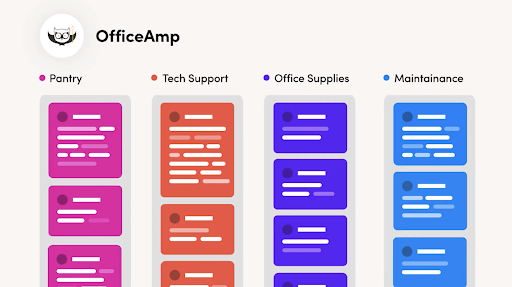 Besides a helpdesk, OfficeAmp can also be used for issue management. Allow office managers to solve problems in the office without needing a manual to-do list. OfficeAmp lets you assign issues to the respective manager, track their status, and view their resolution, all within your Microsoft Teams workspace.
You can even set up a mailroom assistant within OfficeAmp so that your office manager doesn't have to hand-deliver mail that comes in for employees.
Build an efficient workspace with this smart office management app.
4. Zoho Recruit
Recruiting is one of the most important parts of any HR's job. But it's also a long process. It's important that you have all your candidate data in one place, so you can easily contact and compare different candidates to understand who suits your company best.
Zoho Recruit is your one-stop solution to recruitment. Use Zoho Recruit to set up seamless workflows that take your long list of candidates from applied to the first interview to approval. Your email messages and sent files are all stored within this one platform, and you never have to juggle between multiple platforms to get work done.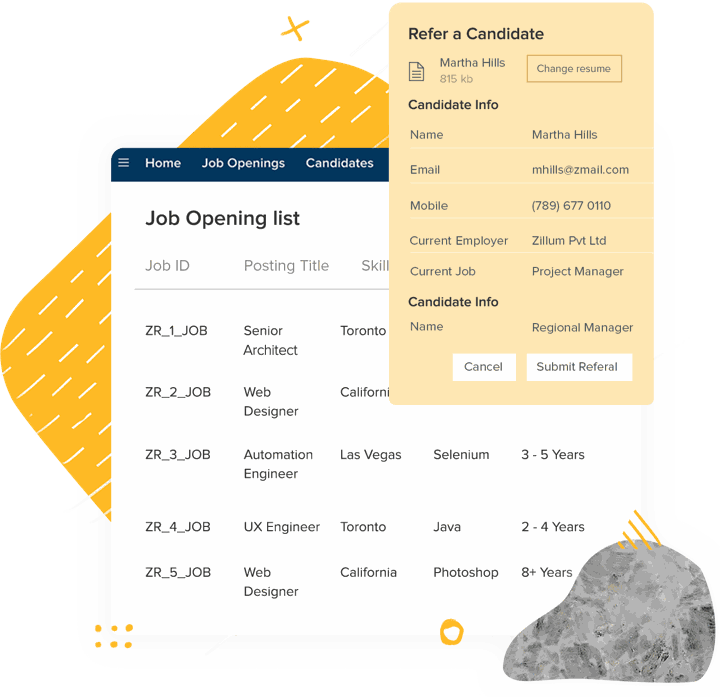 What's more, the smart software integrates with Microsoft Teams, making it easy for you to receive updates and notifications.
5. Polly
As HR, you have to collect employee data on a regular basis. You also need to keep your employees engaged with the company and ensure they are invested in the company's growth. One of the best ways to keep your employees more invested in the company is through polls.
Whether you want to know what they want to do for the next team outing or you need feedback on how processes within the office can change, a poll can help you collect data without hassle.
Polls also allow anonymity, so employees are more willing to open up about suggestions and problems they have. But setting up a polling system doesn't have to be hard. You may be imagining a long Google Form or a traditional pen-and-paper polling method, but those can make it tough to keep data from your poll streamlined.
Instead, if you are an HR team that uses Microsoft Teams for your work management, you can use Polly. With Polly set up in your Microsoft Teams, you can build polls within your communication tool and make it simple for employees to partake in your polls without disturbing their work. As HR, you can also grab insights from your polls quickly and see responses and stats as your employees fill in their answers.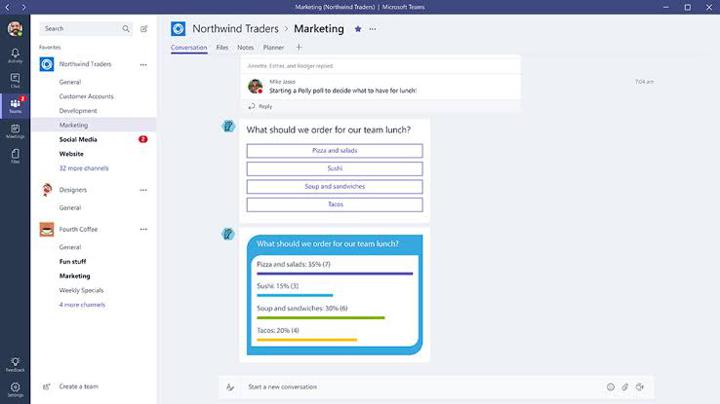 6. Disco
As an HR, your responsibilities are more than just ensuring your employees deliver results. As companies shift to a culture-first mindset, HRs need to set up systems that encourage positive culture building within the organization. But building a positive company culture can be tricky. How do you encourage collaboration beyond just asking employees to work in teams?
Disco is an app that integrates with your Microsoft Teams workspace to make fostering company culture simpler. This app is simple— reward employees who follow and integrate your company's values in their work. Whether it's the junior developer who comes up with new ideas for better client experience or your graphics designer who sets up a side growth hacking project as a marketing tactic, announce and celebrate these wins.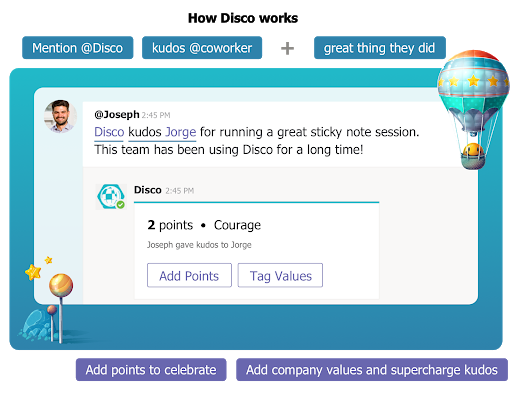 By setting down company values, broadcasting what they are to the team, and recognizing those who use these values within work, you can increase employee satisfaction and build a culture of purpose and meaning at work.
7. Appogee Goals
Companies are moving fast, and every month is packed with multiple objectives to ensure the overall goals of the business are met. This means that the traditional method of annual performance reviews isn't going to cut it. Instead, the modern HR needs to have a system in place that allows employees to self-manage and self-align their goals with the company's goals.
Apps like Appogee Goals makes it easier for HRs to set up goals across the organization and for employees to add in their own goals and follow through with them. With this goal-setting app integrated right into your Microsoft Teams, you can ensure that employees hold themselves accountable, keep track of their progress and keep optimizing their goals monthly to reflect the organization's monthly goals.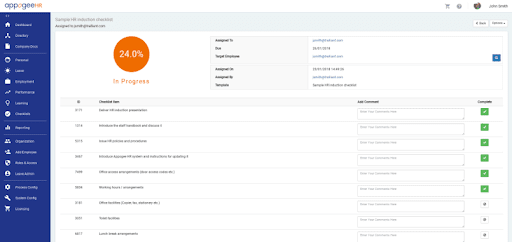 The app creates transparency across the entire company, helping to motivate team members and measure goals in a quantifiable manner. Its dashboard makes tracking and analyzing goal progress much simpler.
8. Employee Onboarding
A good onboarding experience can help you set your new hires up for success from the get-go. As the HR, you must give your new employees a thorough onboarding experience— providing all the details of what their work would be like as well as introducing the company culture. The first two weeks is an important time for new employees, and you need to keep them engaged and provide them with the optimal amount of assistance.
But with the other tasks on your plate as an HR, you can't always be present for your new hires to give them the well-rounded onboarding they require. This is where automated apps like Employee Onboarding help.
With this app built into your Microsoft Teams workspace, you can schedule tasks, create onboarding sequences, and set up automatic email notifications for the tasks you're assigning. Instead of manually sending emails and explaining tasks to your new hires every time, you just need to set it up once and you're good to go!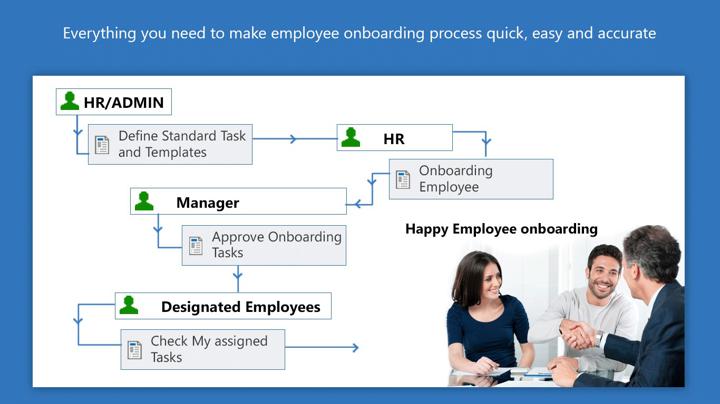 Whether you want to give your new hires reading material or need to ask the office manager for a new laptop and other hardware for them, this app takes care of every task on your onboarding sequence. This is helpful for everyone involved in the onboarding process—from the new hire to the managers to even you. The app lets users check tasks on their list without needing prompting or reminders from a third party.
It's important that you integrate apps within your Microsoft Teams workspace to make the most out of this work communication tool and increase your efficiency. If you use Slack, check out these 5 HR apps that power your Slack workspace!
---
Which of these apps makes your job as an HR much easier? Any other that you'd like to recommend? We'd love to include it in this list!
Guest Author Bio
Kanav Abrol is the Co-Founder of Anaek, a chat-based HR system for small and mid-sized businesses offering solutions like AttendanceBot, OfficeAmp and more. You can connect with him on LinkedIn or follow his posts here.