Summary
Redesigned full-screen layout and check-in experience
New formatting options and list types
Smart URLs to other applications
Per-question auto-saved drafts
Tasks & activity integrations
New Layout and Check-in Experience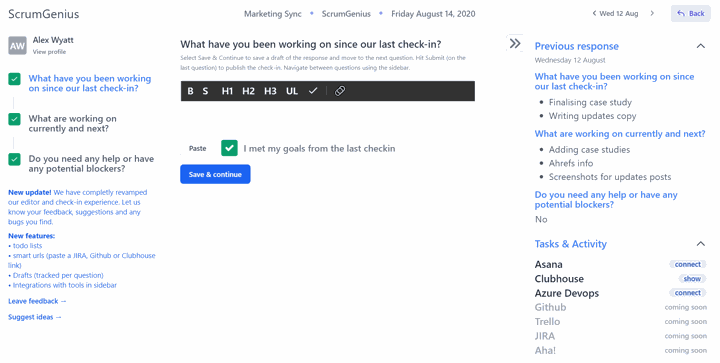 We have completely redesigned and revamped our app layout and check-in experience to allow for a smoother, more seamless experience. This includes a new full-screen window with a sidebar to view previous responses so your check-ins can be distraction-free and even better informed than before.
Log into your ScrumGenius dashboard today to check out the new design for yourself!
New Formatting Options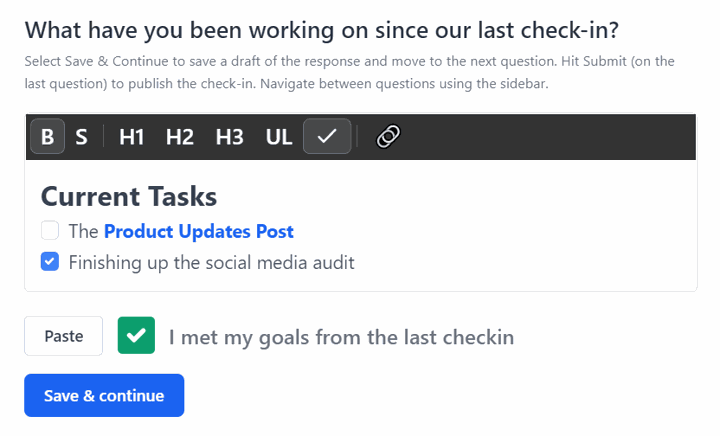 Furthermore, we've also made changes to how you can format answers. This includes three new header options, two list types (bulleted lists and checklists), and bold and strike-through options to better streamline your responses.
Question Drafts

We also now allow you to save drafts of your standup answers per question, so you can write longer responses to each one and submit them all together later on. This means you don't have to worry about finalizing your responses as you write them and can go back to add any extra context you may come across.
Smart URLs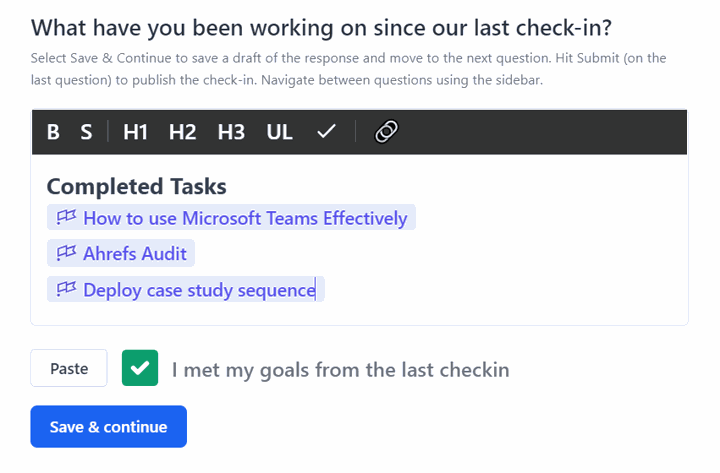 One of the updates we're most excited about is the ability to embed smart URLs within your Scrum answers. You can paste supported tool URLs and they will get some custom styling, such as the clubhouse links above which have the icon and clubhouse brand colors. We're planning on expanding to more of our integration partners later, so stay tuned for more options in the future.
Tasks & Activity Integrations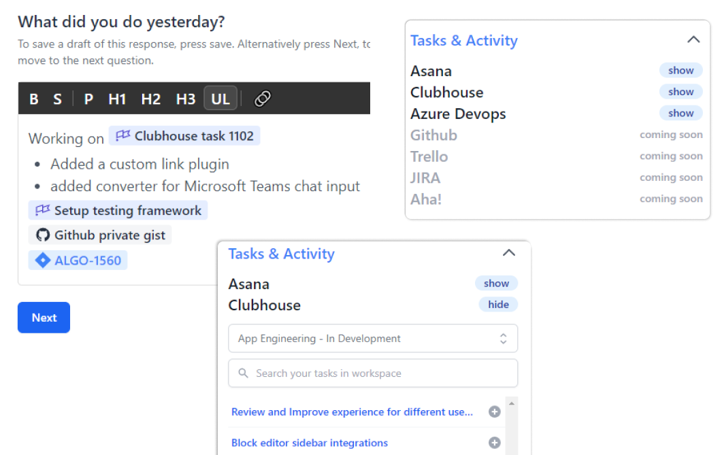 An extension of the Smart URLs feature is the official integrations with project management tools.
Your team is most likely already using tools such as Asana, Clubhouse or Azure Devops (and even more coming soon!). Once you connect your ScrumGenius account to these tools, you can search for your projects and tasks directly within the check-in experience. As well, you can easily add the tasks to your check-in from the sidebar.
We will be adding support for other popular tools based on customer feedback and demand. The next ones coming up are JIRA and Github.
---
Let us know your feedback on these changes as well as any suggestions or bugs you may come across.