Updates highlights
Updates to roles and permissions for teams
Improved integration with Zapier
Import profile photos from Microsoft account profile for your team
Roles and Permissions update
New roles
We've updated how we structure your ScrumGenius teams and users to give you more flexibility in the roles available to your team.
Here's how our new roles are structured:
Account admin: the team lead who manages your ScrumGenius teams, takes care of billing and invites new users. This is assigned by default to the account creator.
Billing owner: the team member who can only manage billing, including upgrading and downgrading licenses and downloading invoices.
Team admin: the team manager, one step below the account admin. This person can create and manage their team but not access billing. They have access to all the teams within the organization.
Team member: the rest of your team. These people can access the teams they are a part of, view the team dashboard and enter standups.
Account settings
We've added a new page for account admins to help them better manage their ScrumGenius accounts. This page can be accessed by clicking on your name and selecting Account Settings in the drop-down menu. Each company will have a default name set to it, but you can change these to better reflect your company.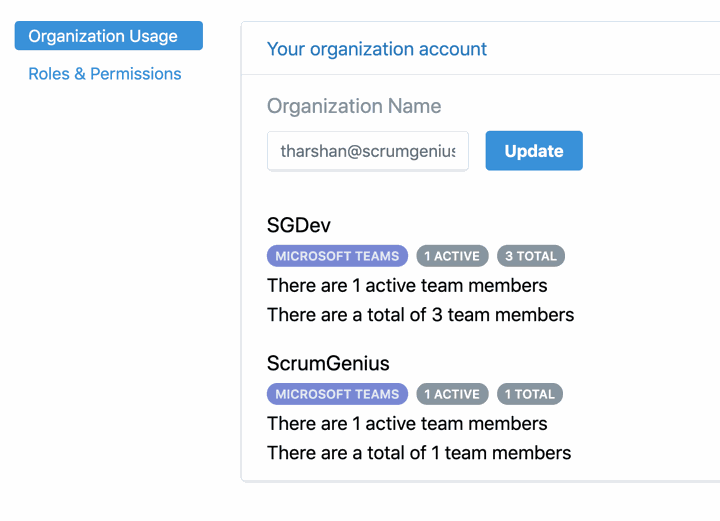 Inviting external users
This update gives team members the ability to invite external users outside of your chat platform into your ScrumGenius teams. This could be a member of your procurement team to allow them to manage billing without having them be a part of your team directory.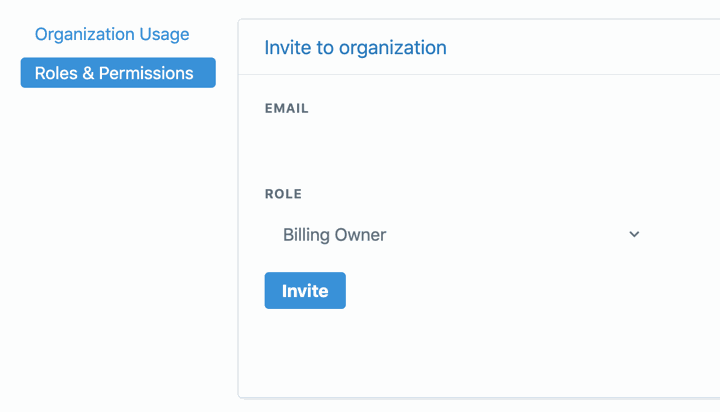 Improved Zapier Integration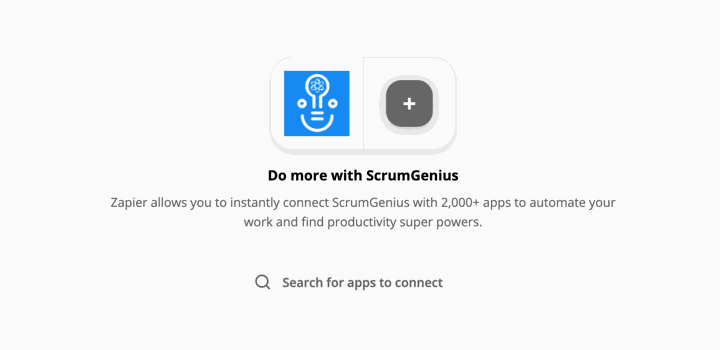 We've recently updated our ScrumGenius integration with Zapier based on customer feedback and added a new action type. This will give our users more options for customization and simplify the interface so you can focus on what you need to get done.
Currently, our integration with Zapier supports 2 action types:
Run Report
Add Custom Activity
The Run Report action allows you to use Zapier with an external trigger such as Zapier schedule to then trigger our the action. You will be able to select any report from your account that can be used to manually run the report.
We've made some improvements to the Custom Activity action, as it gives our users the most customization. This action type allows you to connect ScrumGenius to other project management apps you already use and bring that data into your ScrumGenius standups.
We've also created a few Zap templates to help get you started and give you an idea of what our updated integration allows. Check out our integration gallery here, curated by the ScrumGenius team:
Let us know what Zaps you create to help run standups and keep your workflow running smoothly—we'd love to hear what our customers come up with!
Import profile photos from Microsoft

We currently allow for uploading of profile photos from your computer, but most likely you already have one set in Microsoft Teams.
We recently added a new functionality so an Account Admin can import profile photos for all the users that exist in their organization in ScrumGenius.
Head to Account Settings > Sync profile photos (under Organization actions). If you have a large organization, it may take a few minutes for all users to be updated.
Note: This will override the current photo that exists for the user.