We've made some changes to our product over the last month. Here's how these updates can help you.
Highlights
ScrumGenius Labs
Search Insights
Private Questions
Product Roadmap
ScrumGenius Labs
We've added the ability for customers to try out new features we're developing so we can improve them before general release. If you're interested in trying out these new features, you can enable them as they become available from the new Labs page under Account Settings.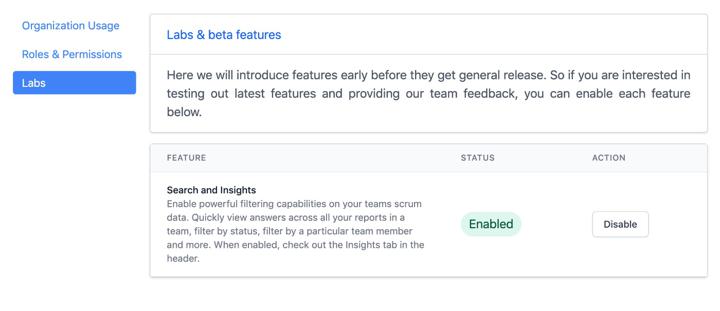 Search Insights
Search Insights is one of the new features we've released under ScrumGenius Labs. It gives you powerful new search and filtering capabilities so you can find team information even faster. Easily view answers across all your reports in a team and filter by status, individual team member and much more. Report names are now included in search results, and we have recently added the ability to select multiple options for team members and reports so you can have even more oversight.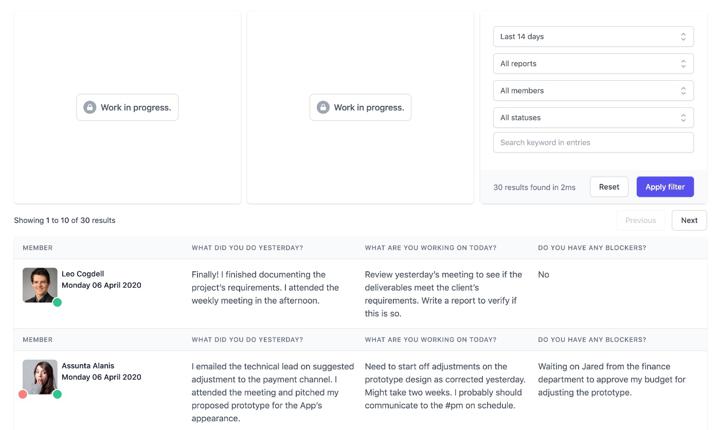 To enable Search Insights, click 'enable' under the Labs page and then navigate to the Insights page now available to you. Keep in mind that this feature is still under rapid development and subject to change, so if you encounter any bugs or difficulties please let us know.
Private Questions
This is another Labs feature that allows you to create private reports that are viewable only by team admins and the report owner. This means members on the report will only be able to view (and edit) their own responses and channel broadcasts will be disabled. These private reports will have a special badge to distinguish them from regular reports.
Alongside this launch, we've also released new customization options for reports. These allow you to customize the notifications sent when the report period finishes and when a team member is out of time to submit their responses. We've also added the ability to remove edit links or links to the report summary, or even enter an entirely new message in your own language if you'd like.
Keep an eye on our blog—we will be releasing a blog specifically on different uses for Private Reports in the coming week.
Product Roadmap
ScrumGenius has just launched a product roadmap where we can share news about product features currently being worked on and ones planned for the future. This information is stored on our brand new Trello board, though please note that not all features or planned updates may be captured there.
We're using this board to collect new feature requests and gather votes to find out what our customers need most. Please free to vote on features you see as essential for your workflows and leave any feedback on how to best implement them according to your needs. If you don't see the feature you want on our board, you can leave us a note through our feedback form, which will add your comment onto the board automatically. Please also leave us a support ticket so we can follow up with you for any further questions.