Update Highlights
Ability to sign into ScrumGenius with your Microsoft account
ScrumGenius integration in your Microsoft Teams' Team Tab
Activity tracking improvements
Easier vacation tracking and support for Outlook integration
Report customisation and better support for foreign teams
Microsoft App Store Update (Version 1.2.0)
We have released a new version of our app in the Microsoft app store that gives you a couple of neat upgrades.
To download this update version, head over to the Manage Team option, select Apps, and then choose ScrumGenius. Simply click Upgrade on the pop-up and you're set.

Here are some of the new features this update brings:
Microsoft Account Sign-In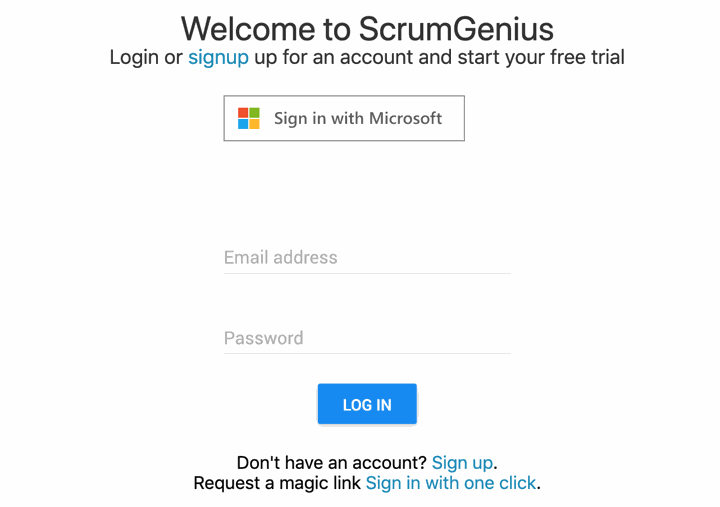 We've added the ability to sign in to your ScrumGenius account with your Microsoft account details. This makes it easier for our Microsoft Teams users to log in with their Microsoft accounts and view their standups and reports with even less hassle. This ability helps make some of our other updates easier, too.
Integration in the Microsoft Teams Shared Tab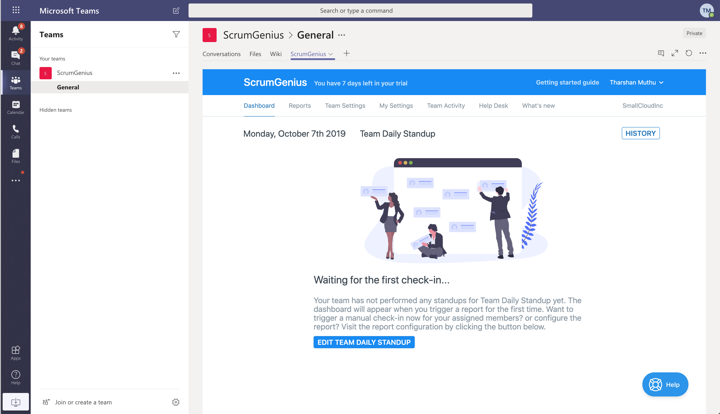 As another update for our Microsoft Teams users, we've added support for ScrumGenius in your Microsoft Teams' Team tab. Admins can add this capability to the team tab for the rest of your team to view to make viewing reports and standup details even easier.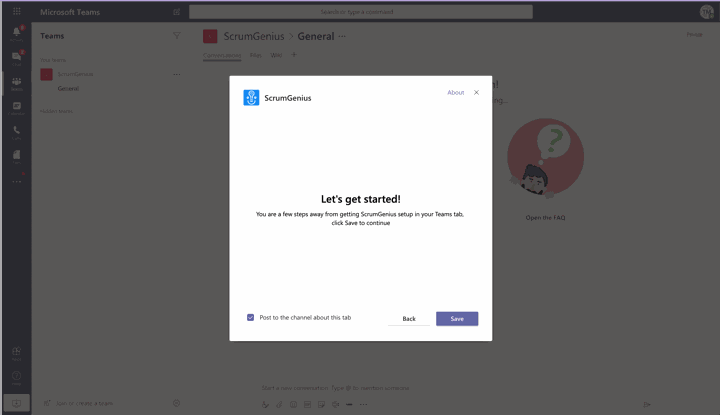 This tab will load the ScrumGenius web app, where you will be prompted to log in. Simply put in your Microsoft Teams account details (remember the update above) and you can seamlessly sign into your account and view the dashboard without ever having to leave Microsoft Teams.
Vacation Tracking Improvements
We've made a couple updates to how our system tracks and shows vacation time for your team to make things simpler for everyone.
Vacation Tracking in the Report Dashboard
Previously, any report members on vacation just wouldn't show up in the Report Dashboard. Now, they're shown alongside the rest of their team, but with a special badge to show that they're on vacation so team members can easily see who's there.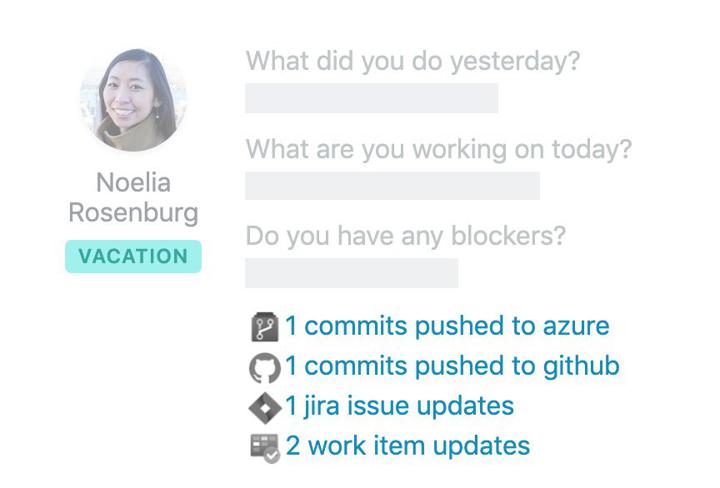 We've also adjusted participation history to exclude members on vacation and make looking at stats a little simpler.
Sync with Outlook Calendar
We've also added syncing capability with Outlook calendar. This is particularly helpful for syncing your team's vacations with ScrumGenius, so you don't have to worry about manually inputting them into ScrumGenius.
ScrumGenius integrates smoothly with Outlook to detect vacations or holidays from the current date to up to three months in the future. Any events during this time marked with the "away" status will be recorded as vacation time, and you won't be prompted to fill out your standups during those times.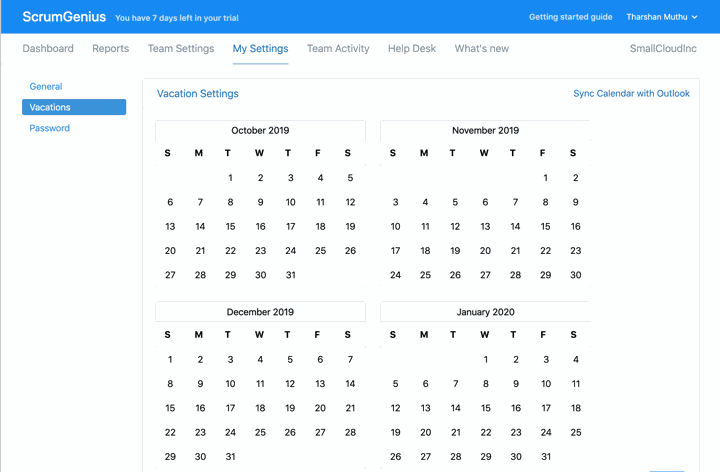 To sync your ScrumGenius account with Microsoft Outlook, simply head over to the Vacations tab in My Settings and click on Sync Calendar with Outlook.
Activity Tracking Updates
We've made a couple small adjustments to what information we collect through our webhooks and how they're displayed. We now support comment created and task status updated events through our webhooks. These events will then show up under your team's standup answers and in the Team Activity page (if enabled in your JIRA settings).
Report customisation and better support for foreign teams
We've added more options for customisation in your ScrumGenius teams. These updates can make things easier for our non-English and foreign teams as well as any team that wants further personalisation with their standups.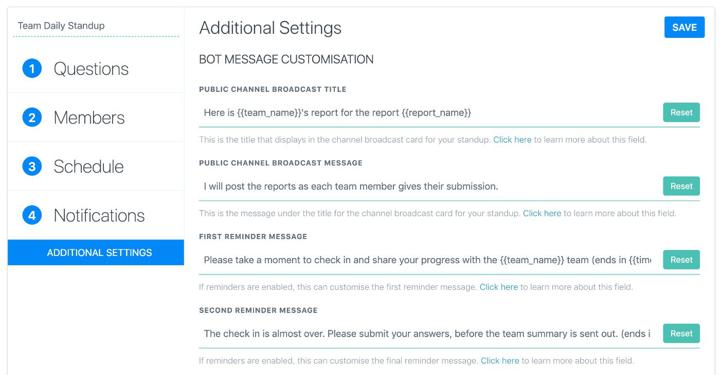 New editable fields and messages include:
Broadcast title message
Broadcast message
First reminder message
Second reminder message
We also now allow for more dynamic variables in your reports, such as the time the report period closes, the team's name, the report name and the report date.