One of the biggest drawbacks to automated standups is the lack of custom answer formats. Many scrum bots don't allow attachments that would actually show your roadblocks and tasks. This is a huge problem for teams where sharing files is an important part of their work, like design or marketing teams.
ScrumGenius is excited to announce that we've debuted content block layouts to make your standups even richer than before. Now, you can customize your answers to add as much detail as your heart desires: photos, files, and anything else you would normally add in a Slack channel.
Update features:
Custom blocks (in-line picture and file attachments)
Export into selected channel as soon as standup is completed
File/image integration into ScrumGenius dashboard history
Multiple message support for Scrum answers
Our New Content Block Layout
ScrumGenius' content block layout is based on Slack's block builder, so anything you attach to your standups will look clean and natural. Even better, everything is well-threaded and shows up easily in your Slack channels—meaning you don't have to search for files or click on any external links.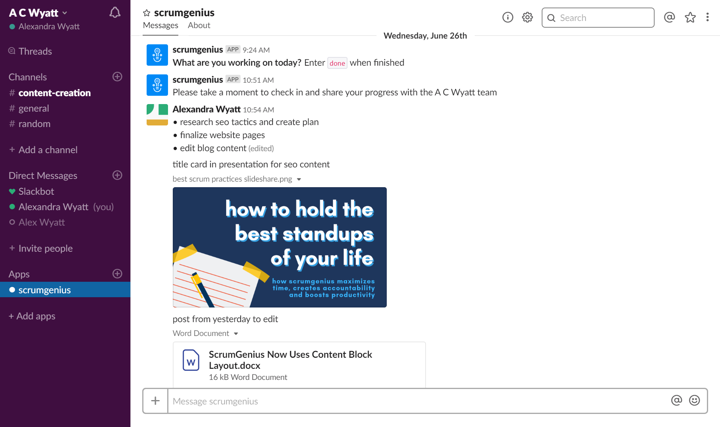 Your Scrum standup will function exactly as normal. Once you submit your answers, they will automatically be output in a specific channel so they can be viewed alongside everyone else's. This means your team can stay in the loop without having to leave the Slack channel—so accountability and organization is even more of a priority.
Once the report is finished, you will also be able to see these files in your team dashboard. This will be displayed alongside activity from integrations with apps like JIRA or GitHub, so even more of your information is together.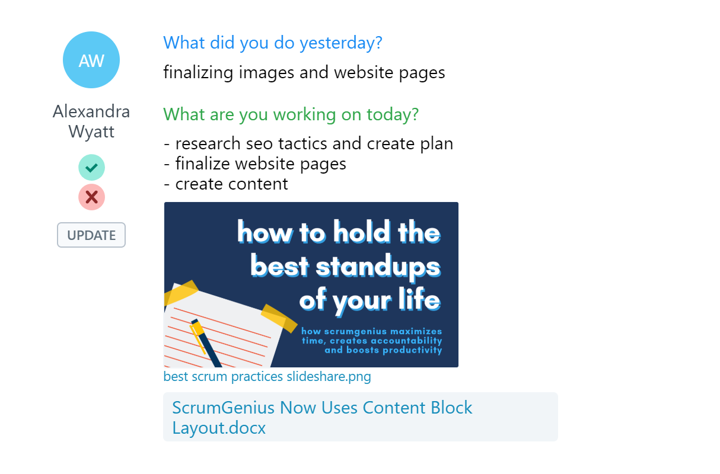 ScrumGenius has also added the ability to send several messages per Scrum prompt so you don't have to try and fit everything into a single message. These two features together are unique to ScrumGenius, setting it apart from other automated Scrum bots like Standup.ly, Jell and Lattice.
Uploading, deleting or changing files and images is currently only supported through Slack, but we hope to support these functions elsewhere in the future. ScrumGenius is constantly working to make our product the best we can, and we hope this update helps you and your team optimize your standups so you have more time for what matters.