Updates highlights:
Easily tell which channel updates are sent to and re-send email summaries
Use the buttons under your name to complete or update standups
Receive standup notifications via SMS messages
Better functionality for missed or past reports
Send or resend standups to individual people
Dashboard Improvements (May 09)
We've been listening to what our clients have been saying and we realized that for many of you, finding and completing previously-missed reports was far more time-consuming than it needed to be. So we've changed that.
Now, when you log into your account you'll see a check-in button that allows team members to check themselves into any active reports and browse past reports, so you can fill out your missed reports much easier.
We've also added the ability to send Scrum standups to specific team members. This can be especially helpful for people added after the day's standup has been released or for people who missed the report window and need to be re-prompted. Simply click the check-in button beneath your chosen person's avatar, and you can send a standup report just to them. ScrumGenius will note the date and time a report was last sent to each team member (and which platform the report was sent to them on), so you can easily tell who you've sent these manual standups to.
Multi-Channel Notifications (May 09)
ScrumGenius has updated how you receive your notifications, so each team member can customize how they receive their standup reminders. You can now choose whether you want to receive your reminders via chat platform, email, or SMS, or any combination of these methods to best suit your needs.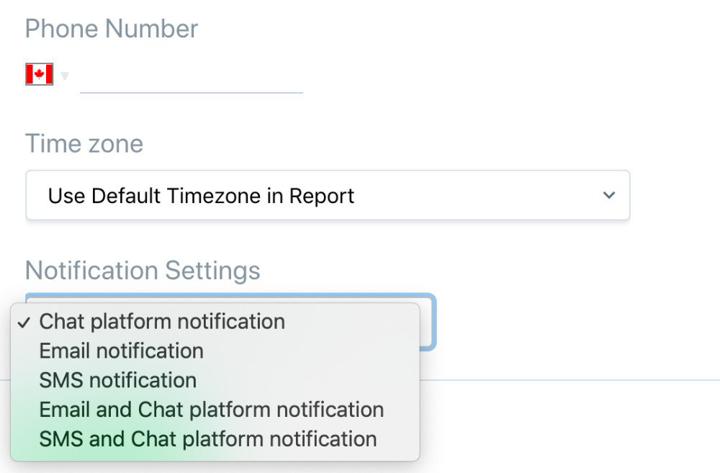 Dashboard Updates (June 03)
We've made some important updates to the dashboard to improve ScrumGenius' functionality.
First and foremost, email summaries can now be easily resent to the entire team outside of the summary schedule with the press of a button. This can be especially helpful if you have team members frequently submitting standups after the deadline, leading to missed information in reports. Now, you can resend these email summaries directly from the dashboard, keeping everyone in the loop even better than before. The time the summary was last sent out or is scheduled to be sent out will also be displayed in the dashboard for extra transparency.

Furthermore, we've added labels to the dashboard so team members can easily identify the chat platform channels their standups are being posted to as well as when the last channel broadcast was, further boosting transparency.
Lastly, we've also made it much easier to complete and update your standups via the web. All you have to do is click the buttons under your name in the dashboard and you're able to edit your standups. This functionality is especially helpful for making quick updates or changing your information.